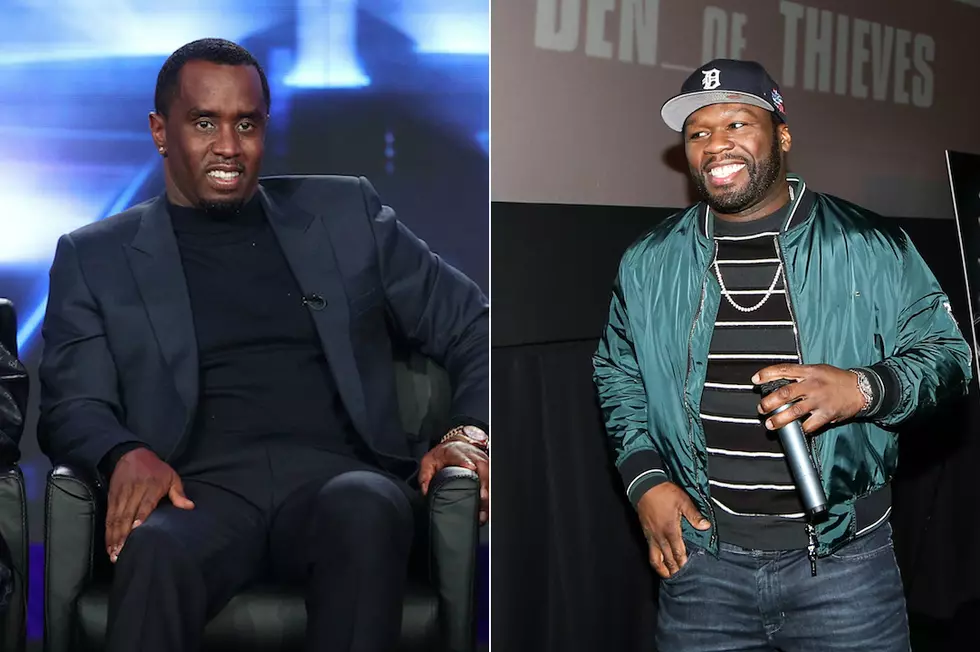 Diddy Insists He Has No Beef With 50 Cent
Frederick M. Brown/Thaddaeus McAdams, Getty Images (2)
50 Cent has been cracking jokes and taking shots at Diddy for years now, but no one is quite sure if the two are friends or enemies. While fans are still trying to figure out the beef, the Bad Boy CEO is sharing his perspective of their relationship while visiting The Breakfast Club on Power 105.1 in New York City this week (Jan. 18).
While promoting his new talent competition show, The Four, Diddy addresses Fifty's recent "fruity" comments about him, referring back to his appearance on N.O.R.E.'s Drink Champs podcast. During his recent interview with The Breakfast Club, the Get Rich or Die Tryin' rapper said that he's called Diddy a "fruit cake" over the years after Puff wanted to take him shopping at Chris Lighty's wedding.
"Yeah, I thought he needed some clothes," Diddy says. "What? I'm a nice guy. I have no beef with 50. He loves me."
Even though the hosts didn't seem to believe Diddy's comments about his relationship with Fifty, he elaborates by saying that the G-Unit entrepreneur loves him, despite the scathing Instagram posts.
"Y'all can't see that he loves me?" he asked. "You really think that's hate? When you really break it down, you been out here a long time, you know he loves me."
Even though the music executive has no beef with Fifty, he does make sure to point out that they are not the same person, despite reaching high success in the music business.
"We are not the same," he exclaims. "We are not cut from the same cloth."
Watch what Diddy has to say about Fif around the 20:15 mark, and check out the full interview below.
See 50 of the Best Hip-Hop Projects of 2017