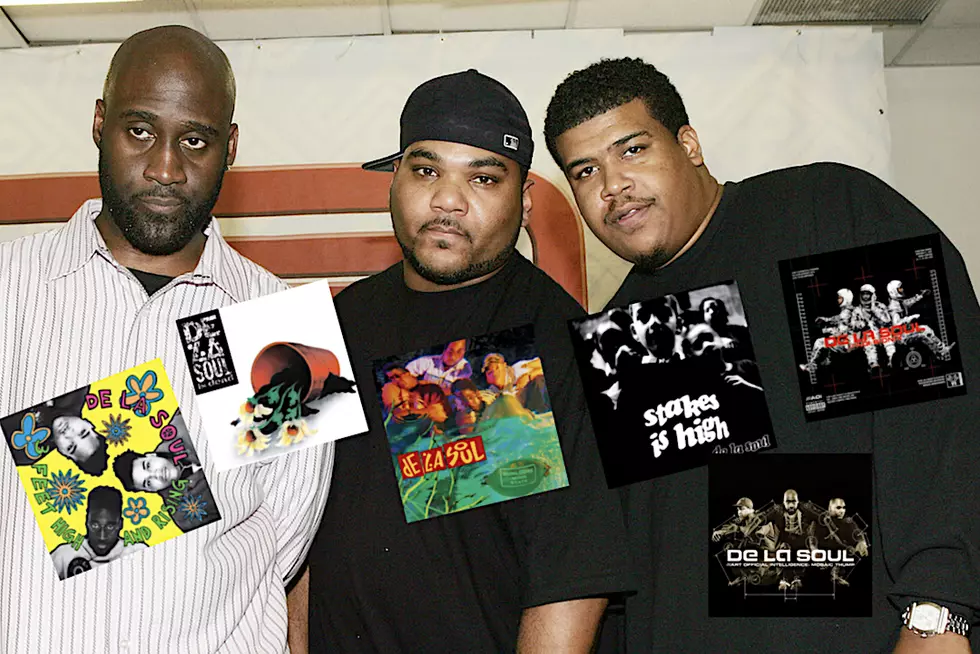 De La Soul Albums Now Available on All Streaming Platforms
Scott Gries/Getty Images/Tommy Boy Records
Access is finally here. After being inaccessible to fans for many years, De La Soul's six albums from Tommy Boy Records are now available on all major streaming platforms and digital retailers for the first time.
On Friday (March 3), De La Soul released their back catalog—including their classic 1989 debut album, 3 Feet High and Rising, 1991's De La Soul Is Dead, 1993's Buhloone Mindstate and 1996's Stakes Is High—on Apple Music, Spotify, Amazon Music and other digital streaming platforms. Back in January, the rap trio, which consists of Kelvin "Posdnuois" Mercer, the late David "Trugoy" Jolicoeur and Vincent "Maseo" Lamont Mason Jr., announced plans for a special rollout to commemorate the good news.
In 2021, the journey began to get De La's music catalog on DSPs. De La Soul's music was acquired by Reservoir Media as part of its purchase of Tommy Boy Records. Next was the daunting task of clearing the samples. Thankfully, sample clearance expert Deborah Mannis-Gardner helped them out. And finally, remastering the albums to improve the quality of the sound.
However, the news is also bittersweet because one De La member is no longer here. On Feb. 12, cofounding member Trugoy, also known as Dave, passed away at the age of 54. A cause of death has not been revealed. However, Dave had been diagnosed with congestive heart failure before his death.
"We are excited to finally have our full back catalog available on all streaming platforms," said Posdnuos in a statement. "At the same time, we are deeply saddened by the loss of our brother, Dave. His unique voice and talent will be missed, but his spirit will always live on through our music."
In addition to their music catalog streaming, exclusive merchandise, vinyl, CDs and cassettes are available on the group's official website, wearedelasoul.com via their label AOI and distributed by Chrysalis Records.
Today is a momentous occasion in hip-hop for both old and new De La Soul fans to enjoy.
Watch De La Soul's "Me Myself and I" Video Below
Watch De La Soul Paying Homage To David 'Trugoy' Jolicoeur and Speak on Their Catalogue Finally Streaming Below
See 50 Great Albums From Rappers With Poetic Flows