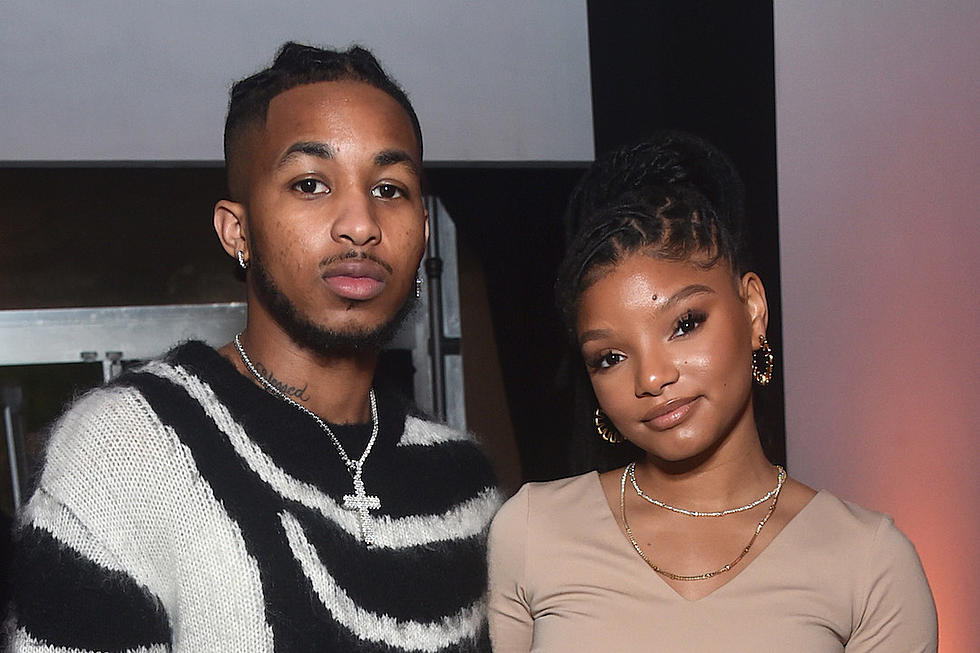 DDG Reveals His Insecurities With Girlfriend Halle Bailey Kissing Other Men in Movies on New Song 'Famous'
Alberto Rodriguez/GA/The Hollywood Reporter/Getty Images
DDG opens up about his insecurities with his girlfriend, actress Halle Bailey, kissing other men in movies on the new song "Famous."
DDG Admits He's Insecure in His Relationship With Halle Bailey
On Friday (July 14), DDG released his new project Maybe It's Me... and on it opens up about his relationship with his girlfriend Halle Bailey. On the song "Famous," the Michigan rapper admits that he is insecure about Halle kissing other men in films, seemingly referring to her scenes with Little Mermaid co-star Jonah Hauer-King.
"I been so insecure that I be thinkin' you really be f**kin' n***as you in movies with/But on the internet, I just be coolin' it, but in my head, a n***a really losin' it," he rapped on the song, adding, "Gotta be payin' good 'cause you keep doin' it, I might just tweet somethin' just to ruin it/I got a platform, I'm abusin' it."
Additionally, on the chorus, DDG appears to regret falling in love with the singer-actress.
"Fall in love, I hate that s**t/Knockin' me off my grind, I can't f**k with relationships (Oh)," he rhymed, adding, "I don't even ask for much, I ask you to do the basic s**t (Oh)/Hardest thing I did was fall in love with a famous b***h."
People Are Not Feeling DDG's New Song, Voice Concern for Halle's Well-Being
Upon hearing the song, fans jumped on Twitter to voice their displeasure over DDG being toxic in his relationship with the Hollywood starlet. Other people also voiced their concern about Halle and urging her to leave the relationship.
"DDG is a whole ass loser. Like an insecure small little man. The whole song is the nastiest thing he could've done to her. The misogyny and pure dismissal of Halle is overwhelming," tweeted one person.
Another Twitter user believes DDG is being a hypocrite on "Famous." He typed, "I find it ironic that ddg got a problem with Halle's JOB, but when he got girls all over him twerking over his face and smacking they ass it's just art and a job right?"
A third commenter wrote: "I know we love to joke but it's scary the hold DDG has on Halle. He openly says he wants to ruin her career, and abuses his platform to do it, and she hasn't left him. Theres no saving her."
Another fan typed: "Halle doesn't understand that DDG is deeply jealous of her but she'll learn her lesson soon enough. Men who are jealous of you will always be out to sabotage tf outta what you got going on."
Watch DDG's "Famous" video below.
Watch DDG's Music Video for "Famous" Below
Check out rappers' expensive collections below.
These Rappers' Extensive Collections Are Truly Remarkable