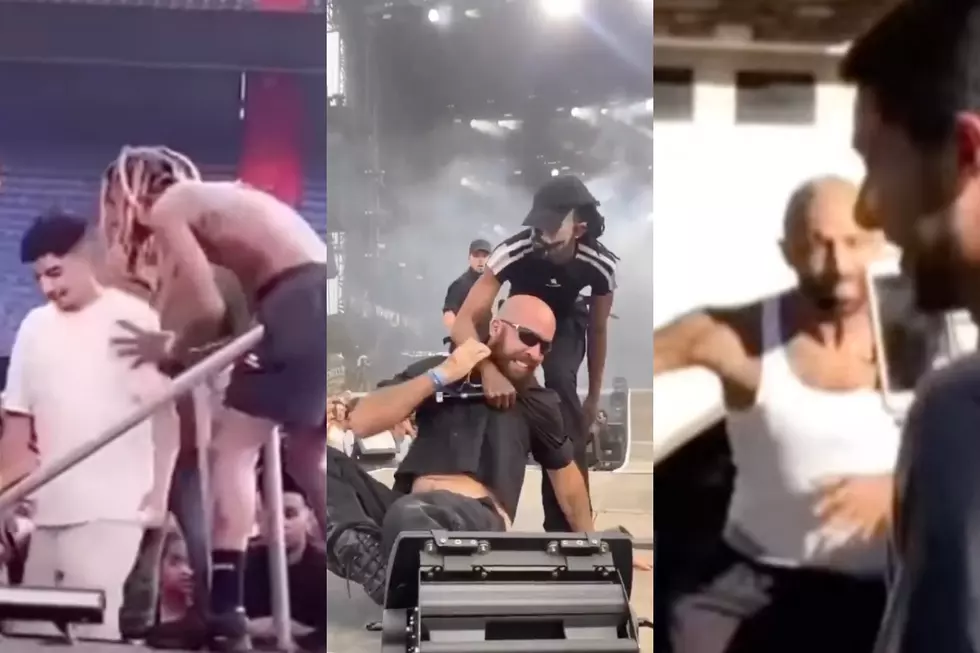 38 Crazy Hip-Hop Fan Moments Caught on Camera
thebigdog1150/YouTube/XXL/Instagram/Siccness Network/YouTube
When Rakim shared that his definition of being an MC is being able to "move the crowd" on the 1987 track of the same name, his revelation was spot on, and has been used as a barometer to separate the cream of the crop from the bottom of the barrel. While that rhyme was spat over three decades ago, over thirty years later, those words still hold true. The ability for a rapper to control the crowd and have stage presence has become more important than ever, especially with the decrease in record sales and other forms of revenue in recent years. Fans want to see their favorite rapper go in during a performance and to ensure those shows keep coming, artists have to be on point when they grace the stage.
Since its inception, hip-hop culture has captivated the minds of millions of people, some of who have gone on to become fanatics -- eating, sleeping, breathing, and living the culture. But sometimes their passion can be misdirected, causing them to come off more as unstable and a borderline stan rather than someone simply glad to be a part of the experience.
On the flip side, one of the more prominent reasons that rappers get in the game is for the fame and cache it can carry. The love of hip-hop and wanting to speak out to the world certainly play a part, but there's something to be said for an artist having a legion of fans and being praised for the music they create. And while being famous has its perks, it also opens up a world of fans that may be a little too overzealous and anxious. Then there are the hecklers, haters and touchy-feely people who make the fan experience awkward for everyone.
In July 2022, a video of Playboi Carti putting a festival security guard in a brief chokehold in order to save and fan who was getting roughed up for trespassing onstage went viral. Oppositely, the same festival season, Lil Durk was captured on video shoving a fan who allegedly disrespected the Chicago rapper's late cousin King Von.
Back in 2016, some Drake fans were chasing clout and got chased after approaching Joe Budden at his home in a harrowing encounter caught on camera. Even Jay-Z has had to put paws on a fan who got to close to his queen Beyonce.
Check out many instances in which some of your favorite rappers encountered fans and the result were viral.
Playboi Carti Saves Fan From Security

Playboi Carti was performing at the Openair Frauenfeld Festival in Frauenfeld, Switzerland in 2022 when he had to come to the rescue of a couple of wayward fans who climbed on the stage during his show. Carti actually stopped his security from roughing up the concertgoers by yoking up his own guard to get him to stop.

Afroman Knocks Out a Woman Onstage

Afroman unknowingly punched a woman in the face during a show in Biloxi, Miss. in 2015. The rapper was unaware she'd gotten on stage with him, according to his rep. Afroman was arrested for the incident and later apologized.

Lil Uzi Vert Jumps Fence After Getting Chased by Fans

Philadelphia native Lil Uzi Vert's popularity has steadily risen over the course of the past year, as has the number of newsworthy run-ins he's had with his fans. At Hard Summer Festival in August, Uzi Vert had to get inventive with his escape after being chased by a mob of his admirers, utilizing his fence-hopping skills for a swift getaway.

Action Bronson Knocks Out Fan

Action Bronson's wild man antics have already been documented at length, making him undoubtedly one of rap's most rowdy characters. Last year, during a performance at Lovebox in London, the wrestling fanatic showed off his pugilistic skills by knocking out at fan who ran on tage and got a little too close for the Queens native's liking.

Joe Budden Runs Down on Drake Fans After They Run Up on Him

Beef with Drake seems to do rappers no good and Joe Budden learned that the hard way this past summer. After Budden offered his two cents on Drake's hunger as an MC and Views album, then lashed out with diss records upon taking issue with a few choice Drizzy lyrics on "4 PM in Calabasas," the rapper was paid a visit by a few OVO loyalists. Not taking too kindly to their house call, the New Jersey rep proceeded to chase the fans down in his vehicle and give them a little dose of their own medicine.

Jay Z Manhandles Beyonce Fan

The throne isn't only to be watched, but protected, as Jay-Z showed us with his reaction to this BeyHive fan who got too close to his queen, Beyonce. While his athleticism has been the subject of memes over the past few years, Hov wasted no time in getting physical with this stan.

T.I. Checks Fan and Puts Him in Place for Trying to Take a Photo

If you're a rapper, fans want to meet you and take pictures, but courtesy is the first policy when it comes to either of those requests. One fan learned that after getting a scolding from T.I. when he tried to snap a flick of the southern MC. Looks like someone didn't take a close enough listen to Tip's 2007 track, "Watch What You Say to Me," or they may not have ended up in this embarrassing predicament.

50 Cent Almost Punches Fan

Being a bully and a brawler are two of 50 Cent's specialties, so his attempt to hook off on an unruly fan shouldn't surprise you in the least. So when a fight broke out around the rapper during a performance at a New York City club, Fif did what he did best, asserting himself and taking a swipe at a potential threat when things got thick.

Trina Gets Into Fight With Male Fan Outside Miami Club

Trina proclaimed herself as "The Baddest Bitch" during the early days of her career, and she continues to live up to the name, on and off record. Her battle of the sexes with Trick Daddy may be considered poetry in hip-hop circles, but her encounter with a male fan shows her bossy lyrics are true-to-life. Unfortunately, the Diamond Princess had to throw down and go toe to toe with him.

Lil Durk Pushes Fan for Allegedly Disrespecting King Von

Lil Durk performed at De Kuip Stadium in Rotterdam, Netherland in the summer of 2022 when he stopped the show and got physical with a fan who angered the Chicago rapper. The person on the wrong end of the mush had allegedly disrespected the late King Von after Durkio played "Crazy Story" during the show. Durk addressed the man fae-to-face before shoving him down some steps.

Travis Scott Gets Into the Crowd to Fight Fan

Travi$ Scott has slowly evolved into rap's ultimate rager, with a penchant for out of control, high-octane performances. But the young Houston native's rage manifested itself in the physical form when he squared up with a few concert goers in 2015.

Kevin Gates Fights Female Fans at Michigan Concert

Kevin Gates may have calmed down as of late, but in 2015, he made more than a few headlines for his violence and erratic behavior. One of the more notorious instances of his temper getting the best of him is this altercation with female fans during a show in Michigan last year.

Stitches Punches a Fan in the Face

Stitches may have caught a buzz with his 2015 cut, "Brick in Yo Face," but the Floridian has made more waves for his various beefs with rival rappers. After coming up on the short end of a fight with The Game's manager, Stitches did a little pummeling of his own, punching a fan in the face during a performance earlier this year.

Wale Confronts Fan at WWE Raw in DC After Twitter Beef

Social media spats are nothing new to Wale, but the rapper got to meet up with one of the trolls tormenting him, and the outcome was not pretty. A Twitter user had a few disparaging comments to share about the MMG rapper and in a surprising moment, Wale caught wind that he was present at a WWE Raw event in his hometown of Washington D.C., Wale made his presence known and decided to have a quick face-to-face chat with the guy.

Kid Cudi Pushes Fan Off Stage

Kid Cudi helped influence a generation of emotive MCs and crooners, so the fact that he let his emotions get the best of him during an interaction with a fan in the middle of one of his performances is no surprise. "Not on my watch," the lonely stoner joked after pushing an intrusive fan off the stage during a set in Houston a few years back.

Fan Gets Tackled Onstage at Mac Miller Show

Mac Miller is as chill as they come and usually keeps a low profile, aside from his political statements and social commentary. However, during a stop in St. Louis for his Space Migration Tour, a random fan made the mistake of rushing the stage during Mac's performance of "Donald Trump," and immediately got tackled as if he was at one of the presidential hopeful's divisive rallies.

Schoolboy Q Tries to Fight a Fan After Throwing an Object Onstage

Hailing from the mean streets of L.A., getting his squabble on is something that Schoolboy Q is fairly familiar with. During one of the TDE star's performances in Denver, a disrespectful fan made the ill-advised decision to throw something onstage, resulting in Schoolboy turning into the school yard bully, attempting to knock the fan's head off.

21 Savage Jumps Off Stage to Fight

21 Savage is one of the hottest new talents in rap, and is already earning a reputation as one not to be trifled with. During a show in Atlanta, some concert goers threw up a few gang signs that offended the hometown star, causing him to jump in the crowd and address the guys in the form of fisticuffs.

Fan Tries to Climb Kanye West's Floating Stage

Drama and excitement are sure to be in the air anytime Kanye West is the center of attention, his live shows being no exception. One of the most recent shenanigans to occur involving Kanye was when a fan got the bright idea to attempt to climb onto his floating stage. The moment occurred while Yeezy was performing during a stop on his Saint Pablo tour. Anything less dramatic wouldn't be expected at a Kanye West concert.

Chance The Rapper Threatens Fan at Concert

More known for his charitable efforts and exuberant spirit, even Chance The Rapper has moments when he's brought out of character. In 2013, during a show at The Observatory in Santa Ana, Calif., Chance stopped the show to have a rather tense exchange with a fan. This was as close to savage as we've seen the normally cherubic Chi-Town native get.

J. Cole Throws Fans Out of Show

Before the platinum plaques with no features, J. Cole was far from stadium status, plying his trade in more intimate venues. Known for being one of the more even-keeled artists in hip-hop, the North Carolina tar heel had to take a page out of Martin's handbook and kick a few fans out of his show for "doing too much."

Chance The Rapper Tackles Fan Who Rushes the Stage

When it comes to doing good deeds for fans, Chance The Rapper is one of the more giving rappers (remember those 2,000 tickets he bought back from scalpers?) but don't take him for a nice guy when his safety is put in jeopardy. One concert goer in Miami found that out the hard way when he attempted to rush the stage, interrupting Chance's performance of "Blessings (Reprise)."

.@chancetherapper handled that real quick pic.twitter.com/KHwZBz4G7x

— HotNewHipHop (@HotNewHipHop) October 11, 2016

Young Thug Urges a Fan to Crowd Surf

During Young Thug's recent HIHORSE'd Tour featuring 21 Savage, Thugger encouraged a fan to jump into the crowd. There's just one problem: nobody caught him.

Fan Shocks T.I. by Grabbing His Ass

Tip issued a stern warning to the male fan after he turned around and released the guy grabbed his butt.

"Don't put your hands on my ass again, bro," T.I. told the fan. "What the fuck's wrong with you, nigga? I will fuck you up! Never touch my motherfucking ass," yelled T.I.

YoungBoy Never Broke Again Gets Groped by a Fan

During an appearance at an unknown location, a fan of YoungBoy Never Broke Again continuously fondled him as his girlfriend Jania stood nearby. Once she caught wind of what was taking place, Jania attempted to grab the girl but was pulled away by security. The Baton Rouge rapper remained seemingly unbothered throughout the ordeal.

Lil Pump Chucks His Microphone at Taunting Fan

In December 2017, a Lil Pump show in Connecticut came to a halt when the 2018 XXL Freshman got into an altercation with a fan. The unidentified man reportedly threw something on stage as the rapper performed. In response, Pump challenged the guy to come on stage before hurling his mic at him.

An Autograph Hound Gets Attacked by Cardi B and Offset's Crew

A self-proclaimed "autograph hound" got in the faces of married rappers Cardi B and Offset after the 2018 Met Gala. By the looks of the video, the fan heckled both of their teams after they refused to give him an autograph. Soon after, a couple men from Offset's crew beat him up in front of dozens of witnesses.

Jim Jones Gets Involved in a Brawl Outside Massachusetts Club

After an appearance at Club Zone in Springfield, Mass. in May, Jim Jones took photos with female fans before his team was approached by several men. At this point a man punched one of Jimmy's crew members, which resulted in an all-out brawl in the middle of the street. Jones was reportedly unharmed.

Fan Gets Manhandled by Security at Future Show

A Future show didn't end too well for a fan who attempted to get on stage with him. Security immediately tackled the guy and placed him back into the crowd, which then resulted in a fight with several other concertgoers as Future performed "Wicked" off Purple Reign.

Tory Lanez Punches a Fan in the Crowd

On the Fourth of July, Tory Lanez caused a bit of a stir after telling fans to put their "hands the fuck up." Soon after, the Canadian hip-hop artist delivered a barrage of punches on an unsuspecting fan. It's unclear what the victim did prior to the incident.

Lil Pump Fan Has a Seizure During Show

During Lil Pump's set at the 2018 Wireless Festival in London, one young man caught a seizure and had to be taken out by paramedics on standby. According to DJ Semtex, "Pump handled the situation perfectly" and waited to see if he was okay before resuming the show. Several other fans were notably pulled from the mosh pit as well, presumably due to heat exhaustion.

Swae Lee Goes Off on Fan Who Threw Phone at His Face

While in Dallas with Wiz Khalifa for their Dazed and Blazed tour, Rae Sremmurd's Swae Lee was hit in the face by a fan's phone, leaving him bloody and bruised. "I'm finna sure your ass. On my mama I'm finna sue your ass" he shouts as his brother, Slim Jxmmi, pulls him away.

Roddy Ricch Kicks Fan Who Climbed on the Stage During Show

Roddy Ricch decided to help his security neutralize a fan who was able to get on stage during the Compton, Calif. rapper's show at the Openair Frauenfeld Festival in Frauenfeld, Switzerland in 2022. Roddy's security team was quick on its feet, grabbing the trespassing fan and pinning him to the ground. Roddy then stepped in to apply a couple of stern kicks for good measure before the fan was push back into the see of fans.

Fetty Wap Slaps Fan After Getting Splashed With Water

Fetty Wap made his palm meet the head of a fan at a show in Iowa in 2022. The New Jersey rapper speaking with fans outside a show in Iowa when someone suddenly  leaned forward and poured water on him. The "Trap Queen" crooner reacted by slapping the bottle and then the person before being pulled away by his security.

Fans Runs Up on YoungBoy Never Broke Again

Fans can be fearless when it comes to doing what they have to do to meet their favorite artist. NBA YoungBoy learned first-hand in 2020 when a fan followed him and approached the rapper while he was sitting in car. The Colors rhymer was clearly not thrilled with the incident and aggressively approached the fan while demanding his motives.

Lil Durk Fan Pees Herself During Show

A lull in the action during a Lil Durk show in 2022 resulted in Durkio finding out one of his fans had peed themselves. "Somebody passed out?" he asked after seeing something out of sorts in the crowd. "Huh? She pissing? She peed? What the fuck? I heard of everything. I ain't heard of that shit, now."

NLE Choppa Fights With Apparent NBA YoungBoy Fan at Airport

In January of 2022, NLE Choppa got accosted at the airport by a reported NBA YoungBoy fan. The interaction quickly turned physical after the guy feigned a punch at the Memphis rapper who then returned fire.