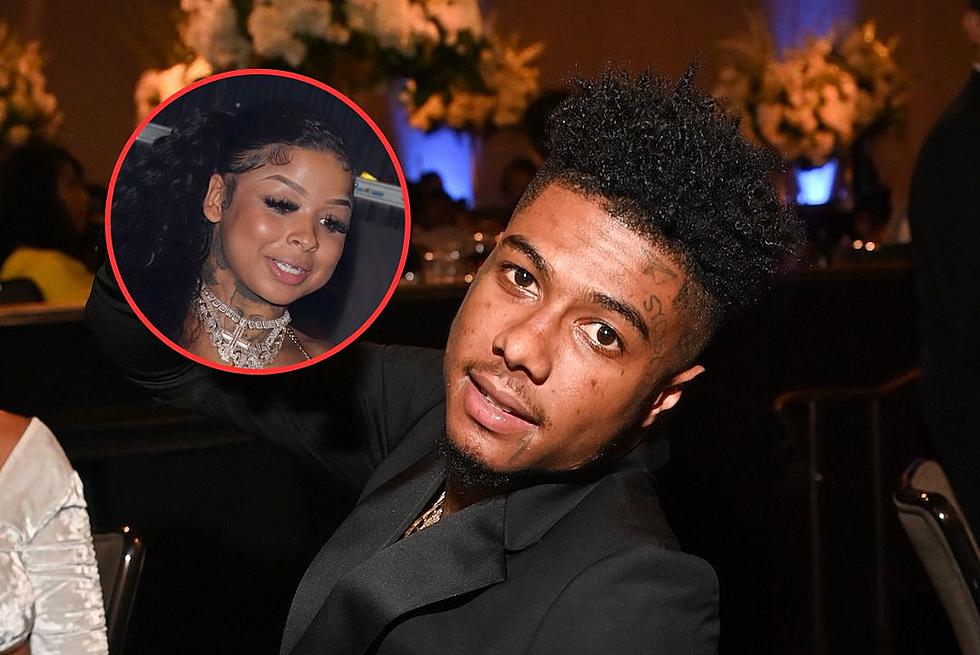 Blueface and Chrisean Rock Beef After She Shares Video of His Recorded Phone Conversation
Prince Williams/Arnold Turner/Getty Images (2)
Blueface and Chrisean Rock went back and forth on X, formerly known as Twitter, after Rock shared a video of their recorded phone conversation.
Blueface and Chrisean Rock Beef After She Shares Recorded Phone Call
On Saturday morning (Oct. 28), Blueface and Chrisean Rock started beefing on X after Rock posted a video on social media of their recorded phone conversation. In the clip, which can be seen below, Rock tells Blue that she still loves him and wants to be with him. However, Blue does not believe her. The Los Angeles rapper tells Rock that he doesn't mess with her and that he wants her to stop acting weird. Blue also has issues with Rock disrespecting him when she's hanging out with rapper Lil Mabu.
The whole phone call conversation is inappropriate since Blueface recently proposed to Jaidyn Alexis. Nevertheless, Rock jumped on Twitter and claimed that Blueface often calls her crying that she is with Mabu.
"I got receipts u just called me crying about me being out mabu," she wrote. "It's ok for you to do you papa[.] I'm just working lol u gotta chill[.] I invited you to come out[.] I would have made mabu stay home at his dorm. You constantly run knowing it's only hurting you. Not me."
"Y'all I'm out traveling getting money for Chrisean Jr this n***a Blu is just some where lost keep getting at me like I'm forcing him to pretend to the world he's happy," she continued. "The n***a just one of many n***as. I'm not the old Chrisean wen you use to ask those type of questions wen I lived with you. Boy you got ya life."
"I got mines I'm not ever here calling you asking bout ya mess," she added. "I just vibe out with you because we got something here but we just friends. Carry on baby daddy I love you weirdo."
"Stop callin I've been fallin back. The more u wan fake love me is just gon hurt you cuz I'm going still do," she concluded.
In response, Blueface denied that he's been calling her and wants Rock to leave him alone. The "Thotiana" rapper added that the only person he sees in his life is Jaidyn Alexis.
In a since-deleted tweet, Blue wrote: "That s**t cap come on cuz that's mabu girl I'm married get yo girl bro."
"I only follow my wife I don't see half the stuff y'all see I actually have a life fr [money bag emoji]," he concluded.
Chrisean Rock Thinks Blueface's Recent Marriage Proposal Was a Publicity Stunt
Chrisean Rock, who is the mother of Blueface's newborn baby Chrisean Jr., believes that Blueface's proposal to Jaidyn Alexis was a publicity stunt. Last Thursday (Oct. 26), Rock went on Instagram Live to express her doubts about the proposal, which she believes was staged.
"People be trolling, right? And I don't troll, for real," she said in her video. "Can I be honest? I think that whole s**t was probably a publicity stunt...I feel like I don't even have to say that. Never mind. Long story short, don't believe the internet."
Check out Blueface and Chrisean Rock's tweets and Rock's recorded phone call with Blue below.
Read Blueface and Chrisean Rock's Tweets
Watch Chrisean Rock's Recorded Phone Call With Blueface
See Quickest Come Ups in Hip-Hop