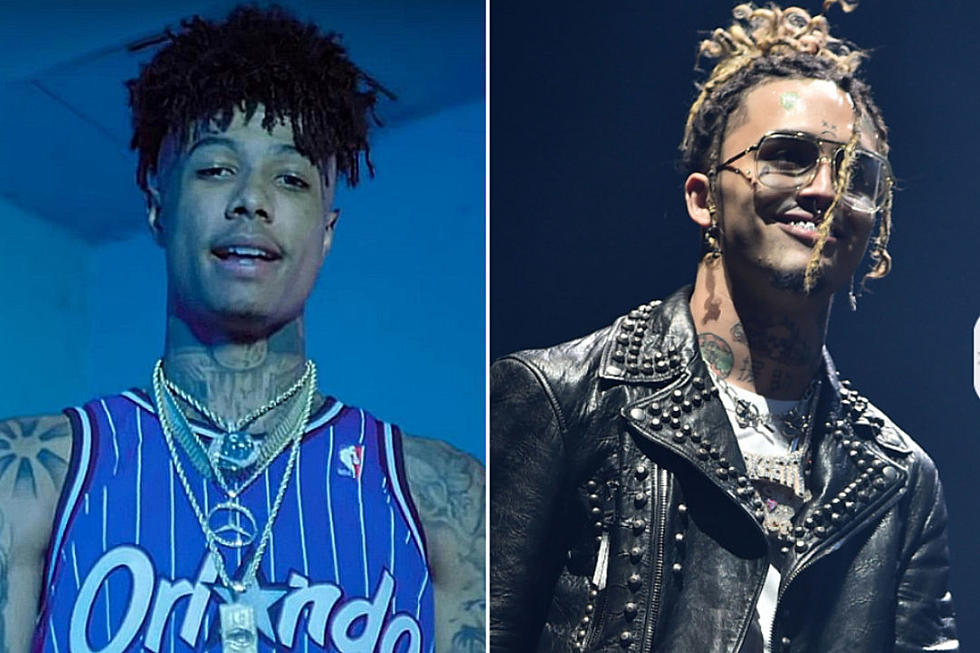 Blueface and Lil Pump Hit the Studio
WorldStarHipHop via YouTube / Theo Wargo. Getty Images
Blueface has quickly become one of the most intriguing new artists on the rap scene. Now he links up with an artist who was in the same place he was in last year, Lil Pump.
Both rappers hit the studio with producers Scott Storch and Mike Crook on Saturday night (Jan. 5). From the sound of things, the session was a fruitful one.
"We cooked up something special for @bluefacebleedem n @lilpump 🔥 with 🔥🔥 @mikecrook_ 💨, Storch captioned a photo of the artists in the studio. "@wack100 made this collab happen and its fiyyyya."
Crook cosigned the pending heat. "Prod a banger with @scottstorchofficial for @bluefacebleedem & @lilpump last night . 🔥 .. @wack100 with another power move 💯," he captioned the photo on his own IG page.
Video has surfaced from the session and shows the artists listening to the playback on Blue's verse. The vibe on the track is decidedly West Coast.
Pump is working on the long-awaited follow up to his self-titled debut, the sophomore release Harverd Dropout. He recently released the track "Butterfly Doors."
"It's really just me, my brain power, my promotion and marketing," he recently told XXL about what powered his win streak. "My music is not like everybody gonna love it, it's really what I make of it. I was going to schools—I wasn't booked to do that. I was just going to get the viral footage.I was 100 percent independent, driving my car, doing everything by myself."
See Blueface and Lil Pump in the studio with Scott Storch and Mike Crook below.
See Photos of Lil Pump Behind the Scenes at the 2018 XXL Freshman Class Cover Shoot