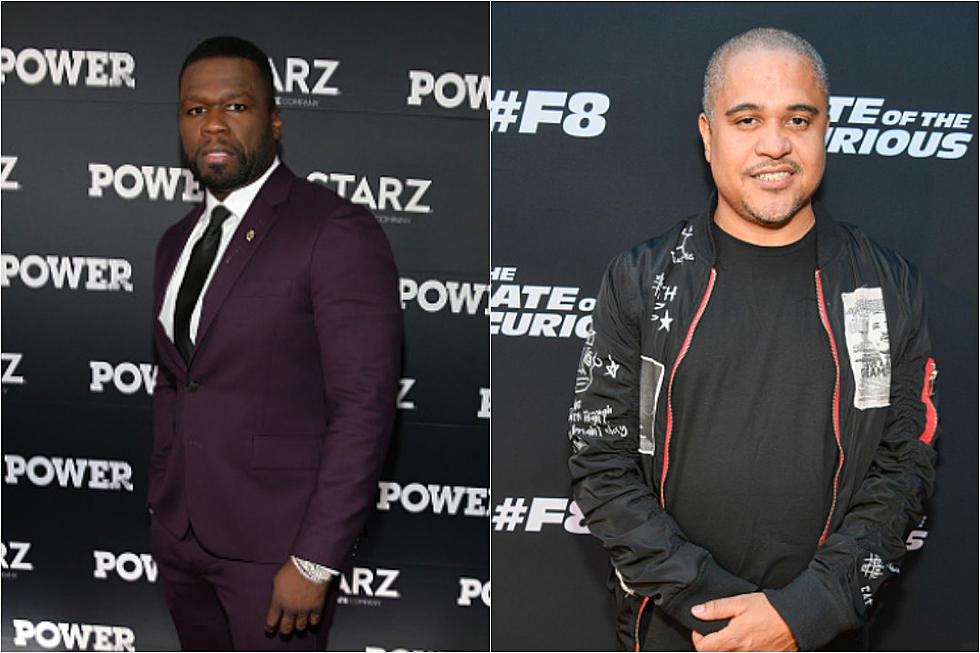 50 Cent and Irv Gotti Throw Shots at Each Other Over Their BET Shows
Tasos Katopodis/Paras Griffin, Getty Images (2)
About 15 years ago, 50 Cent and Irv Gotti were rivals, as the rising Queens rapper was aiming directly for Gotti's Murder Inc. artist Ja Rule. 50 wound up being victorious, but now, 50 and Gotti are back in the same arena together, as 50's new show 50 Central is set to join the BET schedule alongside Irv Gotti's new show Tales. On Sunday, Fif let it be known how he feels about Gotti's show.
"Keep quiet don't tell them I'm setting up shop," 50 captioned an Instagram post Sunday (Aug. 20). "I don't come to make friends. When I come, I take over. #50Centralbet." Then he continued in the comments: "I don't know maybe it's just old drug dealer habits [...] That Tales bullshit is garbage, good idea badly executed. It will be gone faster than you can say 50 did it. LOL."
Irv quickly caught wind of the post and shot back on IG. "The Fact that this clown is trying so hard for TALES go away. Should let everyone know how dope my shit is. He's saying it's a dope idea but poor execution. HAHAHAH. Fuck outta here bitch!! YOU LOVE MY SHIT!! Oct. 10th. TALES IS BACK ON."
Gotti goes on to say he's shooting an episode with Method Man and Mary J. Blige right now before saying Power, 50 Cent's show on Starz, actually belongs to showrunner Courtney Kemps and not 50. "Don't let him confuse y'all," writes Gotti. "POWER IS COURTNEY KEMPS SHOW. It's not his. He is an actor who got EP credit." Before claiming his Supreme Team movie with Leonardo DiCaprio and Jamie Foxx is on the way, Irv left people with this: "Let him entertain you with his mouth and memes. Hahaha. All good. That's how BITCHES do!!"
Hours later, 50 uploaded another pic to IG with the following comment: "Most people fall apart under pressure. I deliver repeatedly at a feverish pace. I'm a nightmare for a hater, I make things happen."
50's new variety show 50 Central is set to premiere on BET Sept. 27. Power is currently dominating the airwaves, even though Fif seemed to admit he leaked the latest episodes online.
See the back and forth IG posts between 50 and Irv below.
10 Rappers Who Were Shot While They Were in the Spotlight