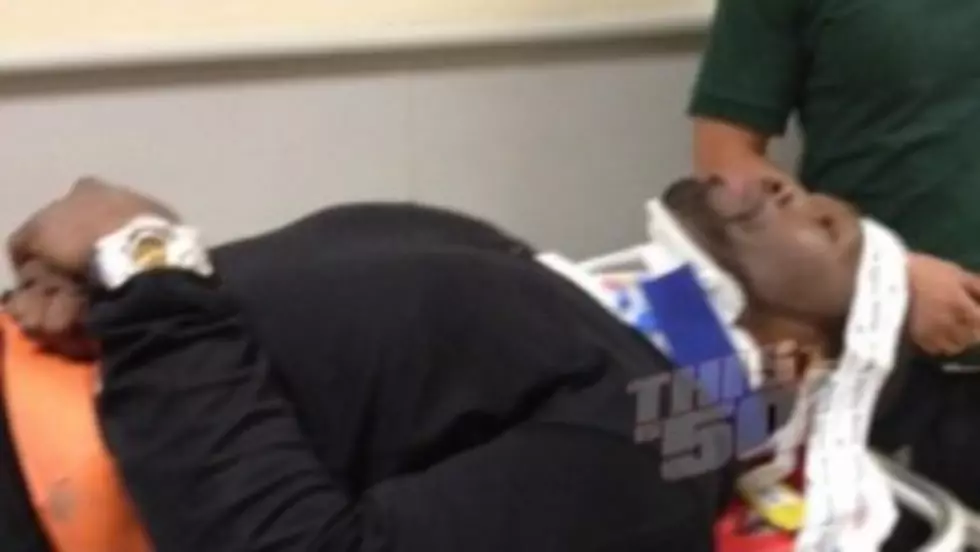 50 Cent Hospitalized And Released After Car Accident in Queens
50 Cent was taken to a Queens hospital in the wee hours of this morning (June 26) after his SUV was rear-ended by a Mack truck.
According to ThisIs50.com, 'Fif's bullet-proof SUV was rear-ended by a Mack truck on the Long Island Expressway after the driver lost control of the massive vehicle, almost causing 50's SUV to flip over in the process. The G-Unit general's website posted the news of the accident and pictures of 50's hospitalization at 3:00 a.m. this morning.
50 was put on a stretcher and taken to the nearest Queens hospital, where they ran tests on his neck and back. His driver had to be taken to the hospital as well.
A source close to the G-Unit camp, however, did tell XXLMag.com that 50 and his driver were released from the hospital after the tests were ran.
"He's fine," the source said about 50's condition.
Added about the driver: "He's good."
This marked 50's second stay in a Queens hospital in just over a month's time. Last month, 'Fif had to be hospitalized after suffering a nasty bout with food poisoning.
"Em called and said, 'Man you been shot nine times, don't fuck around and die over a burger,'" 50 told XXLMag.com at the time. "He called and started making me laugh and shit, and I wasn't feeling good. So I just started to laugh, and he cheered me up when I was feeling uncomfortable."
It's a good thing that 50 is back on his feet. He's hard at work, promoting his Five (Murder by Numbers) album, which is set for a July 3 release.—Mark Lelinwalla