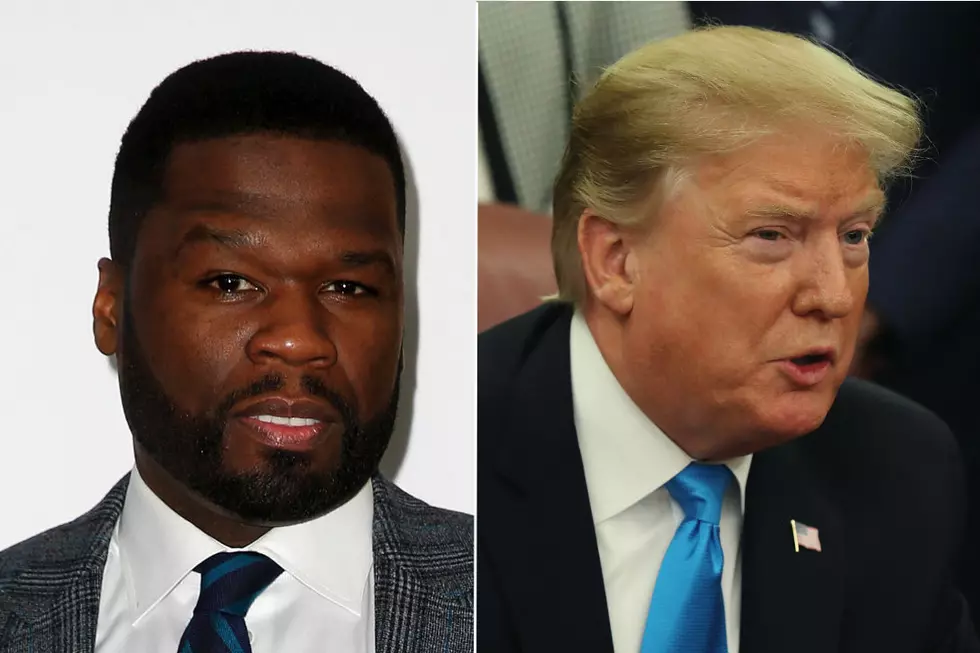 50 Cent Claims President Trump Offered Him $500,000 to Show Up at Inauguration
Dominik Bindl / Mark Wilson, Getty Images (2)
Much like many other people across the country, 50 Cent isn't around for supporting President Donald Trump—and no price tag was going to change that. During his appearance on The Late Late Show with James Corden on Tuesday night (Feb. 19), the Power creator revealed that Trump tried to throw some cash his way for his support, but was swiftly denied.
"With Trump during the inauguration, they offered me half a million dollars to go, just to come," 50 told Corden and fellow guest Massachusetts Senator Elizabeth Warren after being asked if a politician had ever courted him for support.
"I didn't do it because I didn't know if I could fix the damage," 50 continued. "To be honest with you, all money is not good money. You gotta be careful what you're doing publicly because I don't know how you fix that. I just was like, 'Whoa! Don't bring me to fix the African-American vote—bring somebody else! I'll see you later!'"
While he has no plans to stand next to Trump in the future either, he did offer some advice for the next leader who wants to win over the youth.
"Just relax! You gotta loosen up and relax," 50 said. "Hip-hop is connected to youth culture, so hang out with me when you're the President."
"I'm afraid for my life, I haven't been able to sleep since I heard of this," 50 said in an Instagram post yesterday (Feb. 19). "The cops never notified me of the threat. I'm closing all my business in New York. I may have to sue the city."
Watch the full clip of 50 Cent discussing Trump's alleged offer below.
See 10 Times Rappers Went at Fox News