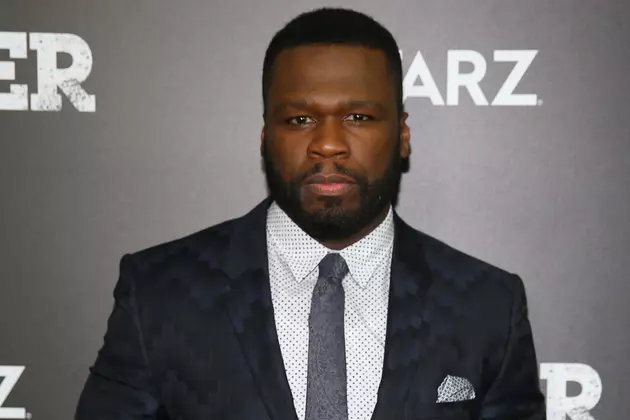 30 of 50 Cent's Best Moments on TV
Paul Zimmerman, Getty Images
While he first became a household name by honing his talents as a rapper, a strong case can be made that 50 Cent was born to be an entertainer first and foremost.
In fact, he's been a mainstay in the entertainment industry largely due to his eccentric, louder-than-life personality, something that has since led him to the latest development of his career: landing a new gig on BET hosting his own late night variety show, 50 Central, as well as securing two new TV shows, The Oath and RPN, as a producer.
In addition to being no stranger to the art of the late-night talk show, having made countless appearances while promoting his music, 50 has been dipping his toes into the television business from a variety of angles for awhile now, including executive producing the hit show Power, which airs on Starz and makes its highly anticipated return to the silver screen on June 25.
While he found himself an easy target for jokes last year, such as for flaunting his wealth recklessly on Instagram while going through an onslaught of legal headaches surrounding his 2016 bankruptcy case, this next chapter of his career is a testament to the importance of weathering the storm and keeping your eyes focused on the bigger picture. In fact, such a philosophical stance stems back to the very title of his unreleased 2000 debut album, Power of the Dollar, something that he has since spent near the last two decades witnessing and experiencing with firsthand.
Now that 50 Cent is well on his way to solidifying his legacy as a powerhouse TV executive, making deal after deal quicker than DJ Khaled can shout "another one," it's safe to say he's about to get quite comfortable in the armchair of his choosing while hosting 50 Central.
To help celebrate the veteran rapper's new calling, take a look at some of Fif's most memorable TV moments below.
50 Cent Makes First National TV Appearance

The rapper first made his TV debut on Jimmy Kimmel Live! in 2003, during which he performed his breakout hit single, "In Da Club." From here, the rest is history.

While being interviewed at the Daytona 500, 50 Cent tried to make a move on a television reporter and the slow motion version of the moment is simply hilarious. Peep his massive grin too.

Appears on BET's 106 & Park to Challenge Kanye West

50 Cent and Kanye West went head-to-head in this episode of BET's 106 & Park's Clash of the Titans in 2007. Fif infamously said that his album would sell better and compares himself to Muhammad Ali, with many fans commenting that Kanye showed off his humble side during this friendly competition. Following their respective performances, two of hip-hop's biggest egos shared how the other inspired them.

Talks About Creating Power on Good Morning America

50 Cent joins Omari Hardwick to discuss with Good Morning America co-host Robin Roberts the creation of the hit TV show Power. Fif also shares that he sought out Omari before he committed to other acting engagements, with both reflecting on their friendship.

Opens Up About Explicit Scene on Power

50 Cent made several appearances on television to discuss the Power episode in which his character exposes himself. Fif shares how the creators behind the show told him to "take one for the team" and commit to a masturbation scene. The rapper also talked about the explicit scene on several shows, including Jimmy Kimmel Live! and Martha and Snoop, and shared what the scene was like for him as an actor and how his family members reacted.

Attempts to Cook on Patti LaBelle's Place

While 50 Cent is a man of many talents, as revealed on an episode of Patti LaBelle's Place, cooking is not one of them. Luckily, because he is 50 Cent, Patti lets some of his mishaps slide, all while hilariously schooling him on the importance of never having a messy kitchen.

Pushes a Model Into the Pool on America's Next Top Model

During a networking challenge on a 2007 episode of America's Next Top Model, the models have the opportunity to meet 50 Cent. One model, Jael Strauss, takes things too far, with Fif ultimately pushing her into the pool for annoying him. Some of the other models said that she deserved it, while other models jumped in the pool to join in on the "fun."

Discusses How He Was Arrested for Swearing

During a 2016 appearance on Conan O'Brien's Conan show, the entertainer reflects on getting arrested for swearing in St. Kitts, discussing how performing his dirty lyrics got him in trouble with the law.

Appears on Keenan Cahill's YouTube Channel on Chelsea Lately

Originally being featured on an episode of Chelsea Lately, the famous YouTube sensation, lip-syncer and entertainer Keenan Cahill finds himself joined by a surprise appearance from 50 Cent. The moment went viral, with the two entertainers dancing in unison and enjoying the track, "Down on Me."

Explains How Turning 40 Impacts His Career on Jimmy Kimmel Live!

During this sit-down with Jimmy Kimmel, Fif talks about how his age plays a role in his songwriting and how his outlook has changed over the years.

During an appearance on The Graham Norton Show, English actress and writer Julie Waters finds herself intrigued by the fact 50 has a bullet fragment lodged into his tongue and asks to touch it during the program. Fif obliges. 

Offers Tips on How to Wear Designer Underwear

During an appearance on Late Night with Seth Meyers, 50 Cent explains that his designer underwear is designed for special occasions, as well as explains his inspiration behind this new endeavor.

Discusses Hanging Out With Meryl Streep at a Lakers vs. Knicks Game

When talking with host Jimmy Kimmel, 50 Cent reminisced on being pals with Meryl Streep and attending a Lakers game together. Definitely an iconic moment for Fif, with the rapper sharing Streep sprinkled a little of her "stardust" on him and revealed that it was the legendary actress' first time attending a professional basketball game.

Makes Pizza With Martha Stewart

During an episode of Martha & Snoop, 50 Cent joins the fun and makes pizza from scratch with the two hilarious hosts.

Uses His Son as Lady Bait

During an episode of Jimmy Kimmel Live!, 50 Cent explains in detail how he uses his son to attract and win over members of the opposite sex.

Opens Up About Naming His Dog Oprah on Oprah

During a sit-down with Oprah in 2012, 50 Cent explains the true meaning of why he named his dog after her, as well as why Oprah now takes it as a compliment.

Makes Terrible First Pitch at Mets Game

This was one he will never live down, with the pitch being so infamously horrible. He owns it, though, on Jimmy Kimmel Live!.

Pokes Fun at Diddy on Conan

He talks about how he poked fun at Diddy on Instagram in 2015 during an appearance on Conan, after Diddy allegedly assaulted his son's coach with kettlebells.

Makes a Cameo on Entourage

This scene is truly epic, with 50 Cent pulling up on the character Turtle on Entourage while poking fun at the character's car before driving away.

Appears in a Rap Battle on Robot Chicken

50 Cent was written into an episode of Adult Swim's Robot Chicken, where he joins the character Parappa in a rap-fueled adventure, where his cameo appearance ends with him getting shot for the "10th time."

Holds Nothing Back About His Past Relationship With Vivica A. Fox

50 Cent appears on an episode of Watch What Happens Live with Andy Cohen where he opens up about Vivica A. Fox saying he was the love of her life. He talks about their split, but does so with a smile on his face.

Shows Up on Reality Show About Helping Kids Graduate High School

50 Cent was involved in a reality show called Dream School in 2013, during which he helped encourage the youth to pursue their dreams and inspire them to pursue their degrees, despite previously leaving school.

Surprises Rachael Ray on Her Show

Racheel Ray was in for quite the surprise when her previously unknown guest for a 2016 episode of her show turns out to be 50 Cent, with the rapper giving her clues using a distorted microphone vocal effect.

Discusses Starting Beef With Susan Boyle

During a 2010 appearance on the Late, Late Show with Craig Ferguson, the rapper reveals that he loves singer Susan Boyle, who rose to fame on Britain's Got Talent, so much he wants to start a beef with her.

Appears on Piers Morgan Tonight

During 50's sit-down with Piers Morgan in 2011, he talks about how he was shot and how his career has progressed from being more than "just a rapper."

Reveals How Sharon Osbourne Gave Him the Nickname "Fiddy"

During a 2007 appearance on the Late, Late Show with Craig Ferguson he talks about how Sharon Osbourne's accent re-named him "Fiddy," not "Fifty."

Gives Tour of His Home on MTV Cribs

Appearing on MTV's classic show MTV Cribs is a sign that 50 really did make it. During the episode, he shows off his car collection, his trophy case, how he reads movie scripts while using the toilet and more.

Gets Political With Meredith Vieira

During this 2015 interview with Meredith Vieria, 50 Cent talks about how he admires Donald Trump and is fascinated by his political moves.

Helps Tyra Banks Make It Rain

During an appearance on the Tyra Banks Show, 50 Cent reveals just how much cash he keeps on hand at all time, revealing $25,000 in cash that he keeps in his back pocket. He shares the wealth, much to the surprise of the live TV audience.

Asks Bart Simpson to Join Him on Tour

50 Cent has officially been turned into a character on The Simpsons and it did not disappoint.