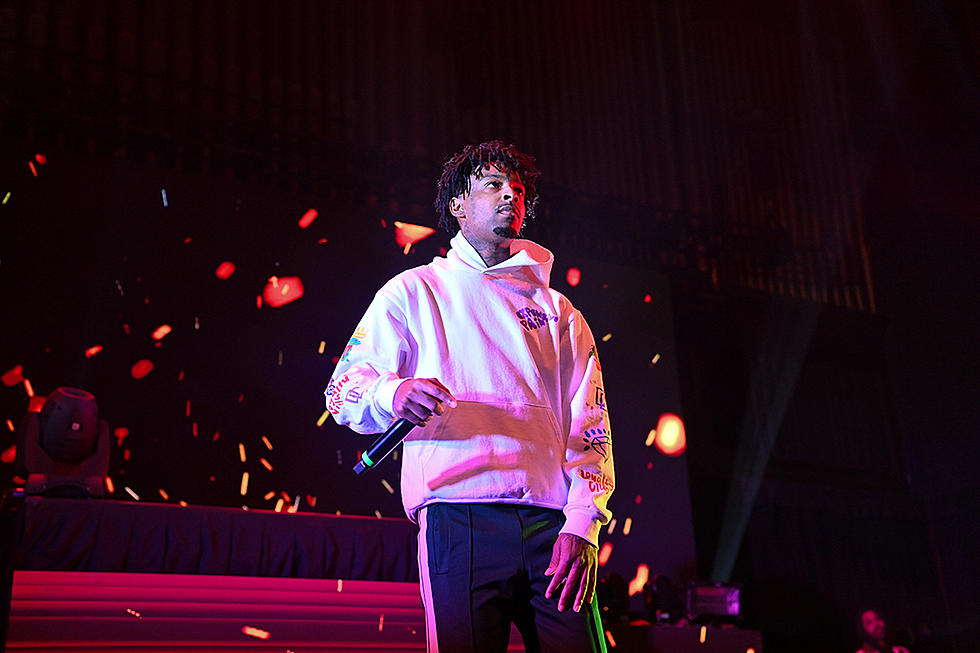 21 Savage's Immigration Status Held Up Due to Past Possession of a Controlled Substance and Firearm Charges – Report
Prince Williams, Wireimage
21 Savage's immigration status appears to be in limbo due to a looming criminal case the rapper has in Georgia.
According to a report from TMZ on Thursday (April 7), 21's attorney, Charles Kuck, says that the U.K.-born rapper's pending criminal charges have put his immigration case on pause. As a result, it looks like no progress will be made in regards to 21 Savage resolving his immigration issues until his case out of DeKalb County, Ga., right outside of Atlanta, has been handled.
On Sept. 23, 2021, 21 Savage turned himself in to authorities in DeKalb County, Ga. following an arrest warrant that was issued for the rhymer on Sept. 7, 2021. The warrant was in connection to allegations against 21 Savage for felony drug and weapons possession in relation to his detainment by ICE (U.S. Immigration and Customs Enforcement) on Feb. 3, 2019.
Authorities claim the Savage Mode 2 co-creator was taken into custody following a traffic stop in Atlanta. At the time, law enforcement determined that he was a citizen of the U.K. and had been living in the U.S. long after his visa expired. 21 Savage was released on Feb. 12, 2019, nine days after his arrest.
21 was accused of tossing a bottle out of the car that tested positive for codeine. It was also alleged that a firearm was found inside the car he was in.
TMZ additionally reports that the DeKalb District Attorney's Office didn't formally charge 21 Savage with possession of a controlled substance and possession of a firearm until January of this year. There also aren't any pending court dates for his criminal case, so this may be an ongoing ordeal for 21 Savage.
Nonetheless, this don't infringe of 21's ability to travel entirely. He can still move about throughout the States, but can't leave the U.S. because he has no visa to reenter the country.
XXL has reached out to 21 Savage's attorney and a rep for the rapper, as well as the DeKalb Country District Attorney's Office for comment.
See 22 Hip-Hop-Related Police Raids
These rappers had some serious run-ins with the police.