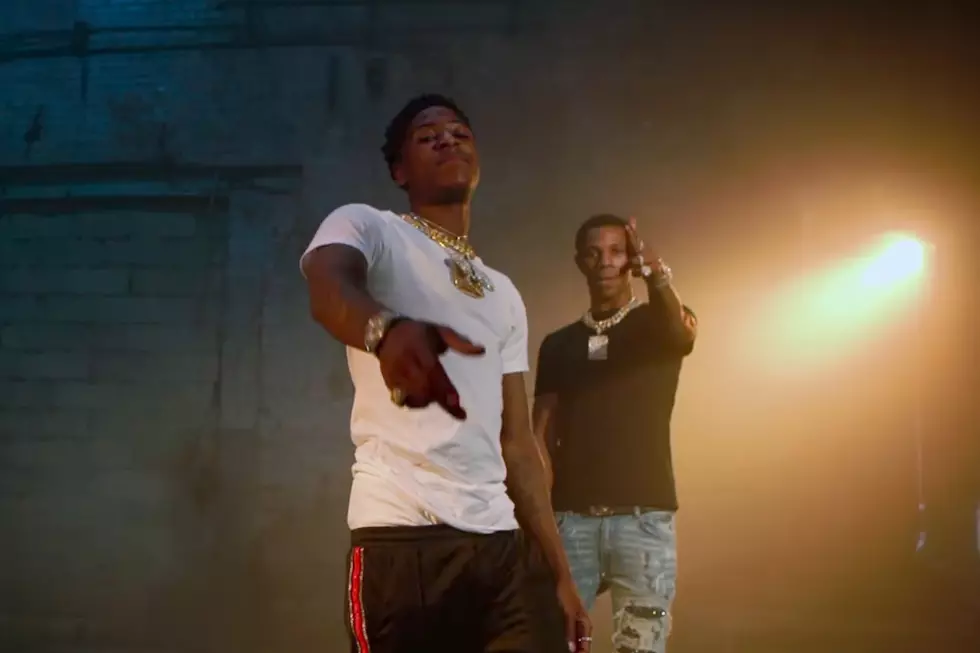 YoungBoy Never Broke Again and A Boogie Wit Da Hoodie Flex in "GG (Remix)" Video
YoungBoy Never Broke Again via YouTube
YoungBoy Never Broke Again is continuing his launch into superstardom, and he's teaming up with A Boogie Wit Da Hoodie to cater to both of their growing fan bases the best way they know how. The Baton Rouge native unveils the music video for his recently released "GG (Remix)" with the 2017 XXL Freshman, where they flex on their haters.
Following the release of the song's remix last week, the David G-directed visuals first show YoungBoy in the outskirts of a major city, where he raps his verse in front of his black G-wagon alongside some beautiful models who keep him company. Soon, he hits up a colorfully lit abandoned venue, where A Boogie chimes in with his hard-hitting Auto-tune-infused verse that sees him showing off some of his immaculate jewelry.
It's been a monumental year for YoungBoy Never Broke Again after his prison release earlier this year. If you recall, XXL previously spoke to him in his first interview behind bars, where he recalled his desire to work with Eminem and Nicki Minaj at some point in the future.
"I want to do a song with Nicki [Minaj] or Eminem or some shit," he says. "I ain't no big fan of rappers, I don't give a fuck about that shit."
Watch the official visuals for YoungBoy Never Broke Again and A Boogie Wit Da Hoodie's "GG (Remix)" video.
See Behind-the-Scenes Photos of A Boogie Wit Da Hoodie at 2017 XXL Freshman Shoot