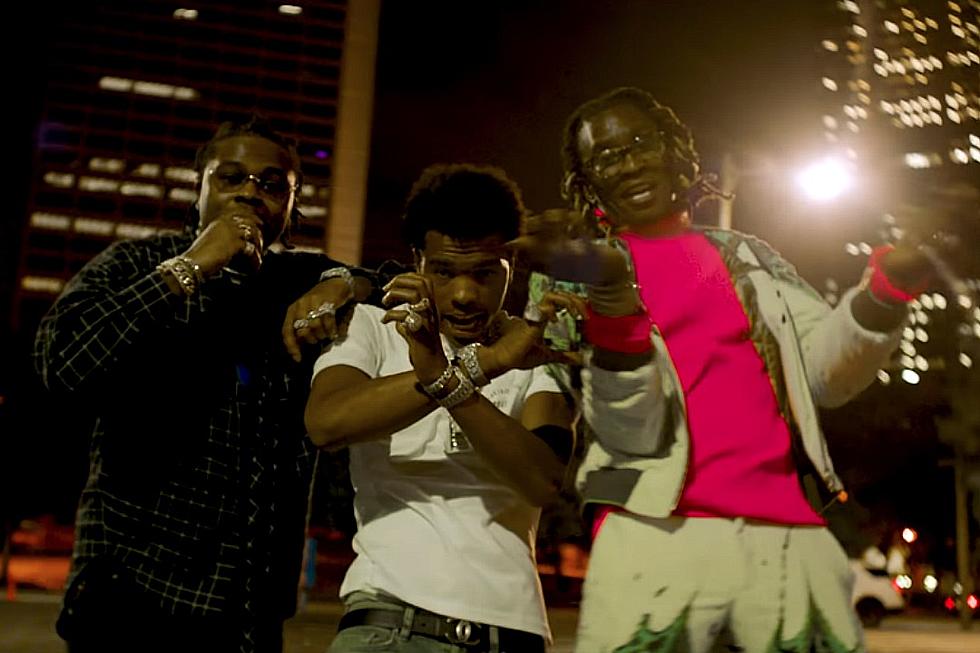 Young Thug "Chanel" Video Featuring Gunna and Lil Baby: Watch Trippy Adventure Through the Woods
via YouTube
After commanding the stage at Travis Scott's inaugural Astroworld Festival last week, Young Thug gives us a taste of his artistic side with his mind-boggling video for "Chanel," a song featuring Gunna and Lil Baby. He dropped the visual for the track last night (Nov. 26).
Thugger kicks off the latest video off his Slim Language project with a snake wrapped around his face. Once it slithers away in search of food, the 300 rapper links up with the Drip Harder artists for a trippy journey from their city into the woods. Thugger rocks his usual, flamboyant attire with a pink turtleneck, white jeans with black and lime green designs and a matching jacket while dripping in gold jewelry.
Gunna keeps it fresh during his psychedelic walk through the woods. Meanwhile, Lil Baby keeps it simple with his all-black outfit so that his multiple gold chains can shine. Later on, Thugger reunites with the "Drip Too Hard" rappers to spit their memorable lines as the trees melt around them.
The video comes after the Slime Language rapper was granted a conditional release after spending six days in jail after failing a court-ordered drug test. As a part of his conditional release, Thugger must submit to random drug testing at least twice a week. He also must begin an outpatient program for addiction and drug abuse, as well as check in with his parole officer when he has events or has to travel.
Watch Young Thug, Gunna and Lil Baby in the video for "Chanel" below.
See Exclusive Photos From Young Thug's 2016 XXL Cover Story