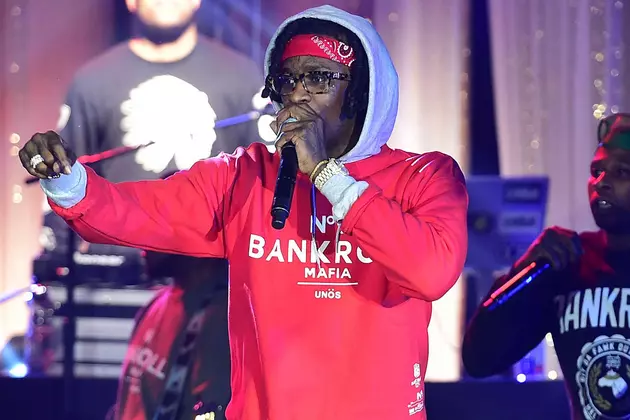 20 of the Best Young Thug Songs
Paras Griffin, Getty Images
Before Young Thug went and dropped his 2014 hit "Stoner," he was killing it on the underground scene in Atlanta as one of the latest prodigal sons of Gucci Mane. Thugger made a name for himself by adopting a personalized blend of sounds from his role models like Lil Wayne and Guwop and mixing it together with his sing-song delivery. After releasing his 2011 mixtape, I Came from Nothing, Gucci took Thug under his wing and the rest is history,
When 1017 Thug arrived in 2013, featuring appearances from Gucci, PeeWee Longway and OG Boo Dirty, among others, Thug's simple metaphors and intoxicating drawl drew fans to him like a magnet. He sounded familiar, yet different and it was just what the streets wanted. His Jay Neutron-produced track "Picacho" was an exceptional standout and proved the rapper didn't have to go for ominous beats to spit fire.
His rise to the top caught the attention of music executives Kevin Liles and Lyor Cohen, the heads of their joint label 300 Entertainment -- also home to the likes of Fetty Wap and Rich the Kid. With their support, he dropped more heat, including the Metro Boomin collaboration Metro Thuggin and his controversial album-turned-mixtape, Barter 6.
Although the overall reception was great thanks to the success of tracks like "Check," the Boosie and T.I.-assisted "Can't Tell" and "Never Had It" with Young Dolph, the project faced major scrutiny because Thugga first intended on the calling it Carter VI, an unauthorized continuation of Weezy's iconic Tha Carter series. The move resulted in his public spat with Tunechi amid Wayne's already brewing war against Birdman and Cash Money.
Even with all of his hip-hop influences, Thugger has paved his own lyrical lane. With more than a handful of projects under his built, he has yet to release a debut album and has already embedded his sing-song style in hip-hop history. He may have more than 40 tracks recorded with Kanye West and a slew of other projects on the way, but the rhymer already has an arsenal of heat. Here we take a look at his solo tracks (sorry, no "Lifestyle" or "About the Money" here). Check out 20 of Young Thug's Best Songs.
"Constantly Hating"

Young Thug Featuring Birdman

"Can't Tell"

Young Thug Featuring T.I. & Boosie BadAzz

"The Blanguage"

Young Thug

"F Cancer"

Young Thug Featuring Quavo

"Raw (Might Just)"

Young Thug

"With That"

Young Thug Featuring Duke

"Shooting Star"

Yuong Thug Featuring Gucci Mane

"Family"

Young Thug Featuring Dora & Dolly