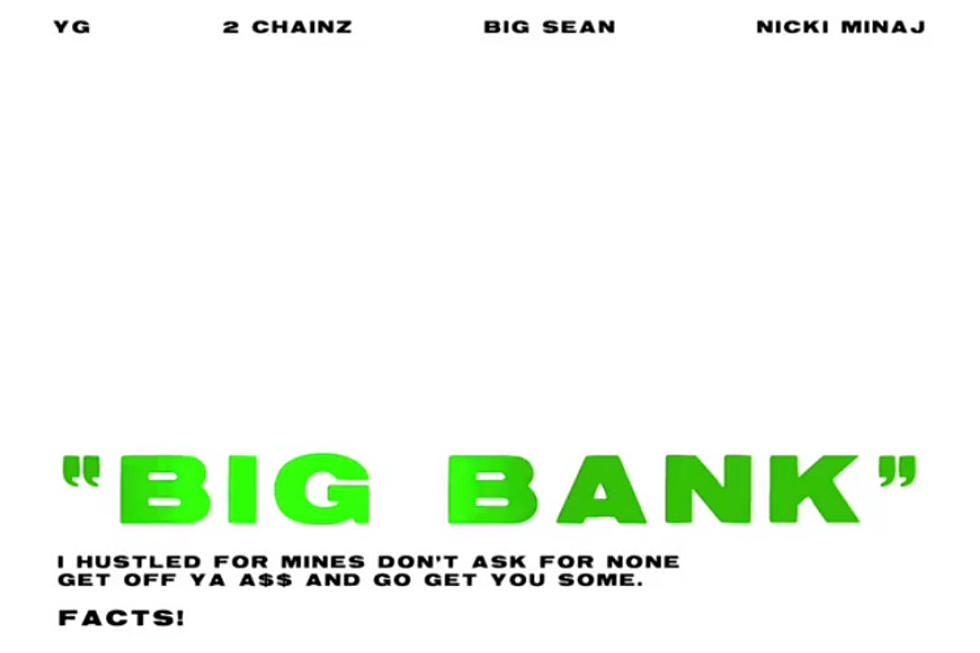 YG, Nicki Minaj, 2 Chainz and Big Sean Brag About Their Cash Flow on New Track "Big Bank"
Def Jam Recordings
The summer continues to heat up with plenty of big-name artists putting out fire in the coming months. Putting on for the West Coast is YG, whose new album, Stay Dangerous, is on the way. On Friday (May 25), we get "Big Bank," which features Nicki Minaj, 2 Chainz and Big Sean.
The new slapper, which was teased on Thursday (May 24), is produced by–you guessed it–Mustard. As the title implies, the four rappers spit about their cash flow on the new banger. "My bitch drive a all-white Range/You couldn't hit it if you niggas had aim," YG raps over the bouncy instrumental. "Lames can't call it, and you lame/You had it and you lost it all a shame/I can buy a Bentley, don't talk to me/For a show 150, don't talk to me/You ain't never help your mans, don't talk to me/You just follow all the trends, don't talk to me."
Tity Boi continues the braggadocio rhyming, "Everything proper, no propaganda/Tropicana, Goyard bandana/Big sack, a lotta hoes like Santa/Threw a birthday party in a Phantom."
While Big Sean pulls double duty on the chorus and verses, Nicki brings up the rear. "Uh oh, back again/Back to back Maybach, stack the M's/Told 'em I met Slim Shady, bag the Em/Once he go black, he'll be back again," she raps.
The track follows "Suu Whoop," the lead single from YG's forthcoming LP. In February, the "Twist My Fingaz" rapper revealed his new album is on the way, during his The Boogie All-Star Weekend event in Los Angeles. "If y'all one of my real fans, y'all gon' be really motherfuckin' happy about this shit," he told the crowd onstage at the showcase. "It's been a long time coming. My new muthafuckin' album on the muthafuckin' way, Stay Dangerous, got damn it."
It's been almost two years since he put out his sophomore album, Still Brazy.
Listen to YG's new "Big Bank" track below.
See New Music Releases for May 2018