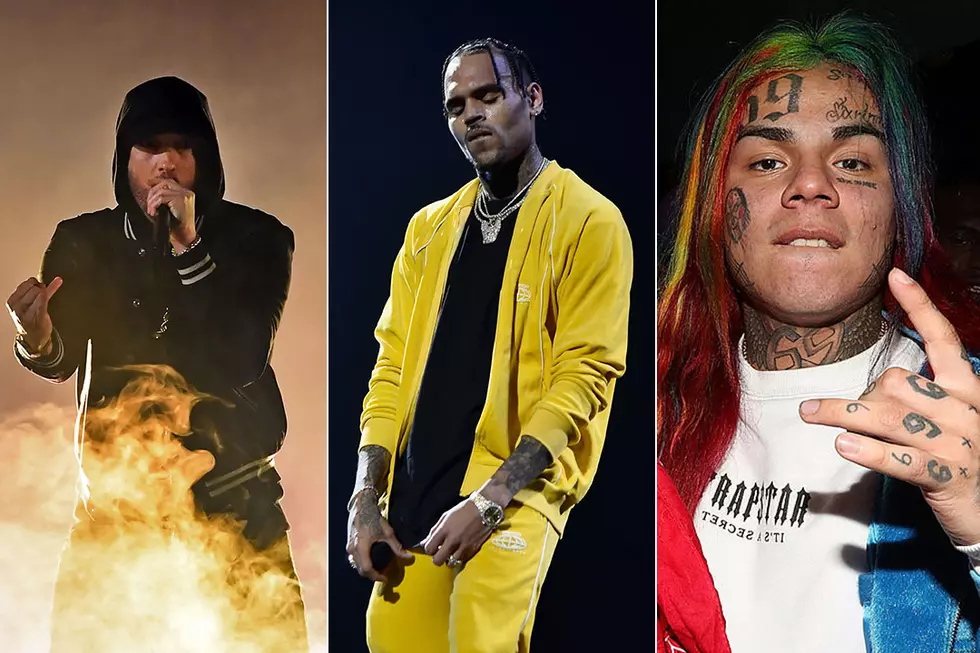 Women's Rights Group Asks Spotify to Remove Music by Eminem, Chris Brown and More From Playlists
Kevin Winter/Theo Largo/Shareif Ziyadat, Getty Images (3)
Women's rights organization Ultraviolet penned a letter (May 15) to Spotify applauding their removal of R. Kelly and XXXTentacion from curated playlists as part of their new hateful conduct policy. The group also requests that the streaming service take things a step further and remove numerous artists including Chris Brown, Eminem, Nelly and 6ix9ine, among others, who have allegedly been connected to abusing women in the past.
"Thank you for taking the important first step of removing infamous abusers R. Kelly and XXXTentacion from your official playlists," the statement begins. "Your action demonstrates that Spotify is following the lead of Black women who demanded that these two men, who have sexually and physically abused women for years, not be promoted and celebrated."
She goes on to list a number of rock and hip-hop artists the group demands be removed as a part of the streaming platform's policy, including the aforementioned, as well as the Red Hot Chili Peppers, Steven Tyler of Aerosmith, and Ted Nugent.
Shaunna Thomas, who serves as the group's executive director, mentions the rippling effect that glorifying celebrity abusers has on the rest of society. "Every time a famous individual continues to be glorified despite allegations of abuse, we wrongly perpetuate silence by showing survivors of sexual assault and domestic violence that there will be no consequences for abuse. That has a cultural effect far beyond one individual artist," she writes.
Lastly, the call to action hopes other music marketplaces will follow the Spotify's lead. "We publish this as an open letter because we hope other platforms like iTunes, Google Play Music, and Pandora will continue to follow your lead," Thomas concludes.
Last week (May 10), Spotify revealed in a statement to XXL that the streaming service will be reviewing each artist on a case-by-case basis as part of their new hateful conduct policy in 2018.
"We don't censor content because of an artist's or creator's behavior, but we want our editorial decisions—what we choose to program—to reflect our values," a Spotify spokesperson told XXL. "When an artist or creator does something that is especially harmful or hateful, it may affect the ways we work with or support that artist or creator."
Read Ultraviolet's letter in full here.
See New Music Releases for May 2018