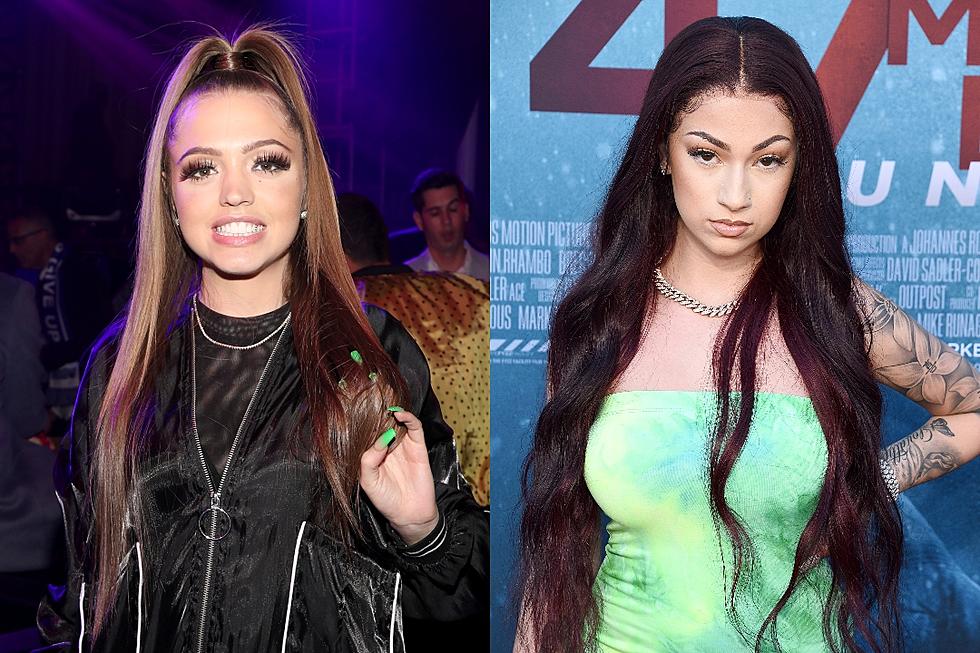 Woah Vicky Starts Training for $1 Million Boxing Match Against Bhad Bhabie: Video
Jerritt Clark, Getty Images / Gregg DeGuire, WireImage
After Bhad Bhabie challenged her to a $1 million fight in the ring, Woah Vicky appears to have started training for her main event moment.
In a TMZ Sports Exclusive the site published on Wednesday (Nov. 13), Woah Vicky revealed that she was training with professional boxer Jermell Charlo. In a 38-second video, Vicky can be seen training to build her stamina and working on her left and right hook.
Toward the end of the video, a message aimed directly at Bhad Bhabie flashes on the screen. "Sign the contract, Bhad Bhabie," reads the message. A tweet from Woah Vicky echoes that call to action.
While nothing is official, Woah Vicky is reportedly aiming for a June 2020 fight date and she apparently wants it to take place at Arlington, Texas' AT&T Stadium.
Bhad Bhabie issued the challenge to Woah Vicky on Sunday (Nov. 10). "1 million and I'll fight that horse toothed hoe in the ring. @LoganPaul @jakepaul cut the check," she wrote in a tweet that mentioned YouTube sensations Paul Logan and Jake Paul.
Bhad Bhabie's call for a $1 million match against Woah Vicky came after the two got into a fight a few weeks ago. The fight, which was captured on camera, shows Vicky punching Bhabie as she's on top of her on a couch. In the video, Bhabie can be heard telling Vicky to do the fight the "right way." Woah Vicky released a diss track addressing the fight less than 24-hours later, and in it, she accuses Bhabie of being promiscuous for the sake of getting famous.
"Let's talk about all the cum that you drunk for fame/They sent you out the back door, you still inked the name," raps Vicky, who says the fight transpired as she was in an Atlanta recording studio to work on a song with Lil Gotit. "Say you from Florida but that's cap, talking 'bout some West Palm/Hit you with this east fist, smack you with this west palm!"
There's no telling when Bhad Bhabie and Woah Vicky will actually end up fighting, but clearly Vicky's taking the matter seriously.
See 22 Hip-Hop-Related Police Raids