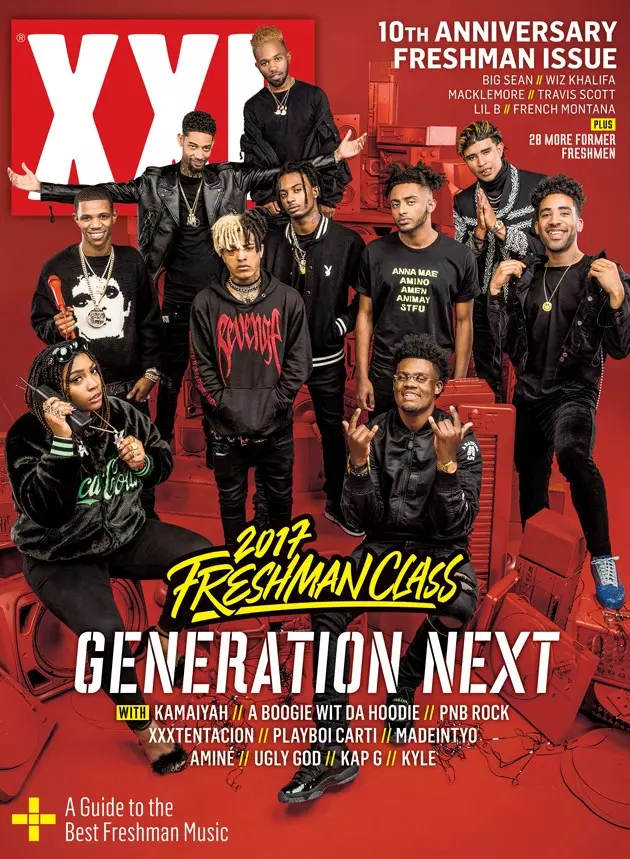 Watch Every 2017 XXL Freshman Cypher
XXL
Last month we unveiled our official 2017 XXL Freshman cover, and over the last few days, we've unveiled each and every one of our specialized Freshman cyphers. You can check out each of them for yourself below.
Over the last two weeks, we've served up individual freestyles for each rapper, but now it's time to look at how each artists interacts in a group setting. Predictably, this year's crop of cyphers was just as diverse as the 2017 Freshman class, which includes the likes of Kamaiyah, A Boogie Wit Da Hoodie, PnB Rock, Madeintyo, Playboi Carti, Aminé, Kap G, Kyle, Ugly God and XXXTentacion. Sonny Digital handled the production.
The first Freshman cypher we unveiled featured Kyle, A Boogie Wit Da Hoodie, and Aminé.  Even though all three have made a name for themselves using melody, they each come with a flurry of impressive punchlines when Sonny Digital drops the beat.
Second up was Carti, X, Ugly God and Madeintyo. For their part, Carti, Madeintyo came with their typical vibes, emphasizing delivery as much as their bars. Ugly God came with his customary dose of humor, and X—we'll let you see for yourself. You won't be disappointed.
Last, but definitely not least, was PnB, Kap G and Kamaiyah. Each came with some solid rhyme schemes, a few quotables at least, serving as a fitting into this year's edition of XXL Freshman cyphers.
Check all three of them for yourself below, and in case you missed them, watch the individual freestyles here: A Boogie Wit Da Hoodie, PnB Rock, Playboi Carti, Ugly God, Madeintyo, Kyle, Kamaiyah, Kap G, Aminé and XXXTentacion.
Kyle, A Boogie Wit Da Hoodie and Aminé's 2017 XXL Freshman Cypher XXL

Playboi Carti, XXXTentacion, Ugly God and Madeintyo's 2017 XXL Freshman Cypher

PnB Rock, Kap G and Kamaiyah's 2017 XXL Freshman Cypher