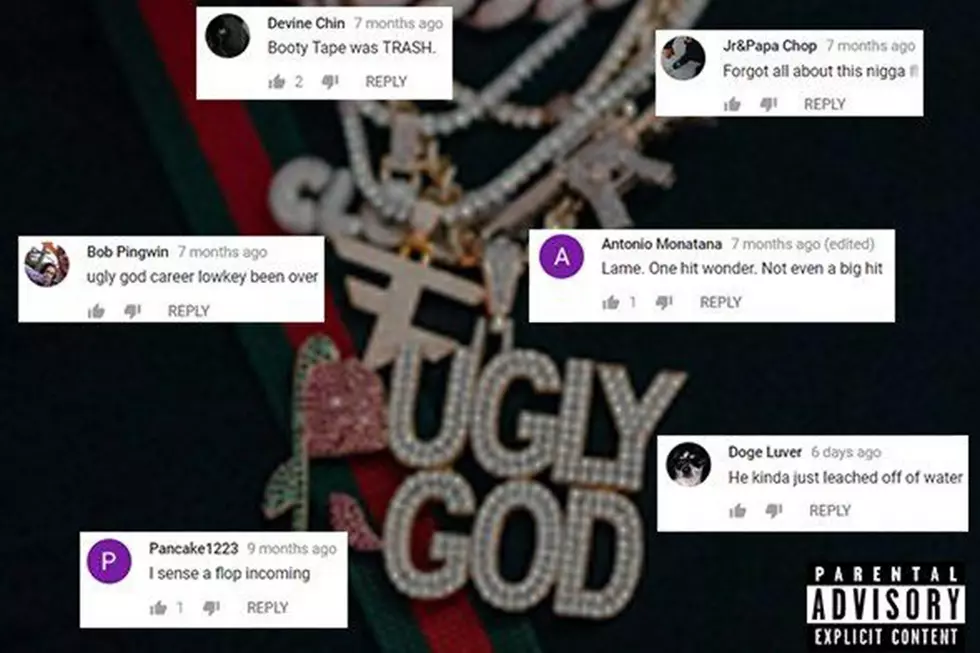 Ugly God Drops 'Just a Lil Something Before the Album' EP
Ugly God via SoundCloud
Earlier this year, Ugly God announced his plans to release three projects in 2018. It appears the 2017 XXL Freshman is making good on his promise and has now dropped the first of three projects, Just a Lil Something Before the Album.
The four-track EP serves as a follow up to his debut project, The Booty Tape, and features a guest appearance from Splash Drexler on the opening song "Leave a Tip." Production on the EP is handled by Nikki Bunkin, Shoki and Red Drum.
According to a tweet from Ugly God, Just a Lil Something Before the Album is made up of a couple of country songs he recorded. "Not my album, but just an EP of a few country songs I made," he tweeted on Monday (April 23). The rapper had also previously teased the project as a country record, tweeting, "20k retweets and I'll record a Country EP and drop it tomorrow."
As for the collab with Wintertime, Ugly God revealed it will be called It's Gonna Be One Ugly Winter and said all of the projects will be releasing within the next few months. "Release dates coming soon," he added.
Listen to Just a Lil Something Before the Album below and peep the tracklist.
Ugly God's Just a Lil Something Before the Album EP Tracklist
1. "Leave a Tip" featuring Splash Drexler (Produced by Nikki Bunkin)
2. "Bitch Where My Hug At" (Produced by Shoki)
3. "Tropics" (Produced by Nikki Bunkin)
4. "WeWantAllTheSmoke" (Produced by Red Drum)
See New Music Releases for April 2018