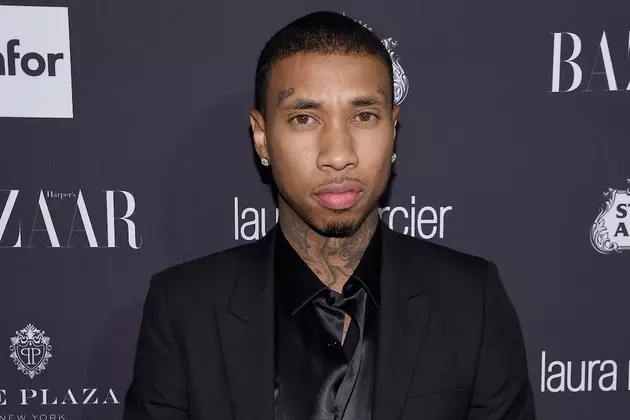 Tyga Recruits Lil Wayne, Chief Keef and A.E. for Two New Songs "Act Ghetto" and "100s"
Dimitrios Kamouris, Getty Images
Tyga is back with new music, and this time he recruits some big names. T-Raww drops "Act Ghetto" featuring Lil Wayne and "100s" featuring Chief Keef and A.E. The two records are singles off his upcoming #B*tchI'mTheShit2 project that should be dropping soon.
For "Act Ghetto," Tune and Tyga pick up the ratchetness by rapping about dropping their inner inhibitions and doing what they want to do with no regard.
"She just wanna act ghetto/She just wanna dance like a stripper, rap like a nigga/She just wanna rub her titties, pop her ass/She just wanna act ghetto when the cameras flash/She just wanna act ghetto," raps Tyga on the hook.
The YMCMB boss comes in strong: "She ain't got home training, she got Uber tho/She just text me O-M-W with two XOs/Only thing she always coming through is project hoes/Gotta put my jewelry up, gotta hide that dough."
For "100s," it's also pretty straightforward. Tyga, Keef and A.E. rap about counting Franklins. The L.A. native and A.E. take on the verses while Keef supplies the hook.
"Bought that whip off the showroom/Yeah, she do the same things them hoes do/That makes her a hoe too/I'ma bachelor, I ain't got no boo/It's all be solo and noble," spits A.E.
The first installment to #B*tchI'mTheShit was fantastic, filled with strip-club anthems including "Make it Nasty" and "The Motto." The 15-track mixtape dropped in 2011, and featured artists including Honey Cocaine, Drake, Lil Wayne, 2 Chainz and more.
Listen to both new songs below.
Fans Name Rappers They Think Will Blow Up This Year