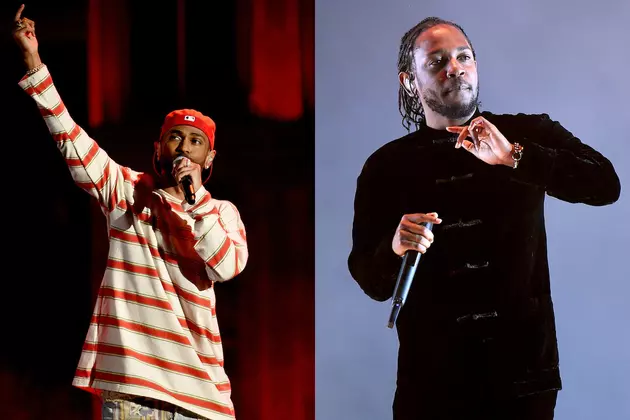 Twitter Thinks Big Sean Disses Kendrick Lamar on DJ Khaled's New Album 'Grateful'
Kevork Djansezian/Kevin Winter, Getty Images (2)
DJ Khaled's newly-released Grateful album is officially here, and it's already become the talk of Twitter for a multitude of reasons. While fans are live tweeting their reactions and reviews to the 23-track project, many fans are dissecting Big Sean's "On Everything" verse, which they believe could be a diss at Kendrick Lamar.
On his hardcore verse, the I Decided rapper seems to make some subliminal references to Lamar, who has allegedly taken some shots at Sean on his recent DAMN. album and on previous records. Not only does Sean get in some decent punchlines on the Khaled track, but he even references his and K. Dot's collaboration track "Holy Key" off of Khaled's Major Key album of last year.
"Boy, I'm a Caesar, I see shit and seize it/Roc-A-Fella chain, but you can still get Ethered/Yeah, they don't really fucking feel me man, but when you really run it they try and clip your Achilles/I'm on track to a billi', I got Khaled fuckin' with me/That mean I got the Holy Key and got the key to the city," Sean raps on his verse.
Twitter has been speculating whether Sean is taking response shots at Lamar, as many fans have been hoping for, but there's no confirmation if they are addressing the Compton MC.
See the tweets from fans talking about the potential diss below.
Twitter Thinks Big Sean Disses Kendrick Lamar on DJ Khaled's New Album Grateful