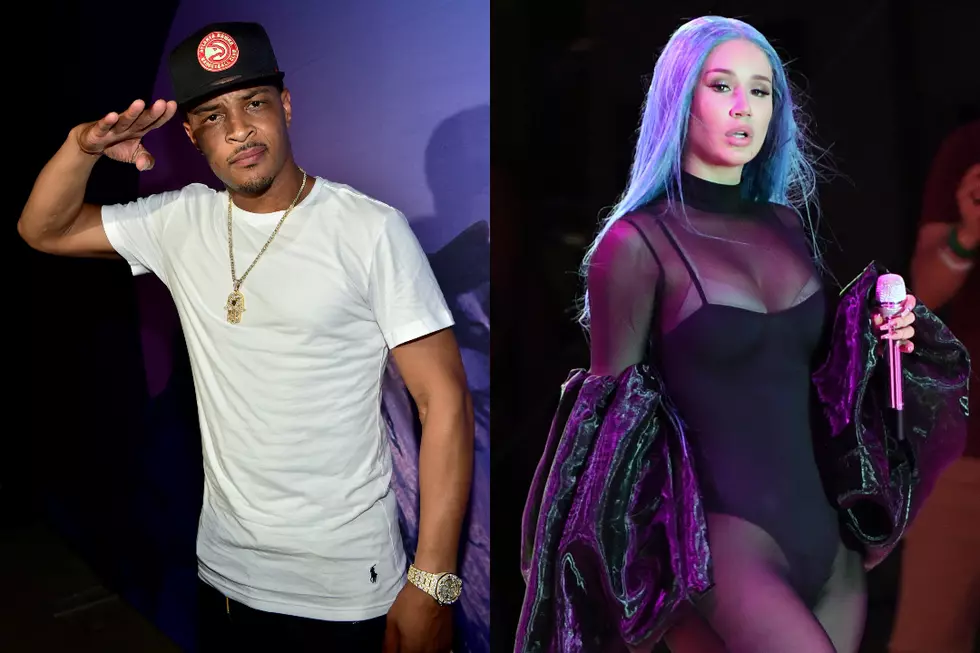 T.I. Claims Iggy Azalea Switched Up Because She Thought Black People Didn't Need to Like Her
Moses Robinson / Ethan Miller , Getty Images (2)
T.I. clarifies his previous comments about his former signee Iggy Azalea, but his added sentiments aren't exactly complimentary.
On Monday morning (Oct. 28), Tip appeared on The Breakfast Club to talk about everything from his podcast ventures to his time on Netflix's Rhythm + Flow. Towards the end of their conversation, Charlamagne Tha God brought up T.I.'s previous comments about former Grand Hustle artist Iggy Azalea, whom he referred to as his blunder earlier this month. Speaking with the crew, Tip elaborated on his initial comments about the former XXL Freshman.
"I really feel like she was meant to be great," Tip explained. "What happened was, and this is just my opinion—keep in mind I didn't say it to speak down on shawty. This is my truth. I'm sharing it. I don't wish no ill will on her. She happens to be the biggest thing tomorrow, great. But as far as I'm concerned, when she found out White people liked her and she didn't really need Black people to like her, she switched up. Started acting different. Made moves I wasn't proud of. It placed my reputation in the line of fire. She was very arrogant about it."
A few weeks ago, Tip spoke to The Root about his Netflix show and said that he wanted to find a fresh female voice that could undo the "blunder" Iggy caused. He also referred to her as the "tarnish of my legacy."
"I'm still actively looking for another female rapper who can undo the blunder of Iggy Azalea," Tip told The Root. "That is the tarnish of my legacy as far as [being] a [music] executive is concerned. To me, this is like when Michael Jordan went to play baseball."
Watch T.I. explain his stance on Iggy Azalea at the 22:24 mark below.
See Hip-Hop Fans Name The Most Disrespectful Diss Track of All Time