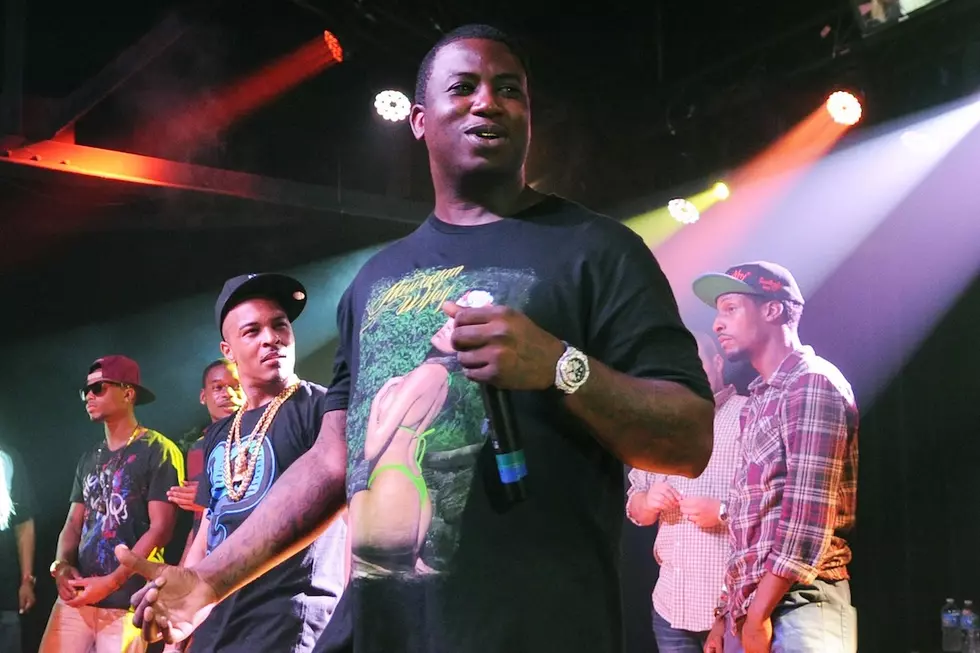 The History of Trap Music Runs Deeper Than T.I. and Gucci Mane
Chris McKay, Getty Images
Last week, both Gucci Mane and T.I. have both staked their claim as inventors of trap music. And rightfully so, both are innovators of the subgenre. Tip claims the music started with his 2003 album Trap Muzik, which certainly helped add the term to rap's lexicon. Meanwhile Gucci says he invented trap music in the early to mid 2000s—his 2005 album Trap House remains a blueprint for newer rappers more than a decade later. Yet trap music has its roots far beyond those two. To really understand the origin of trap music as audiences know it, one has to go much earlier than T.I. and Gucci's careers.
On the Trap Muzik title track, T.I. proclaimed, "This a trap/This ain't no album/This ain't no game/This a trap." He wasn't referring to trap as some niche style of music; it was his lifestyle. The term "trap" is short for "trap house," the often-abandoned buildings where drug dealers operate. T.I.'s lyrics revolved around the trap house, hence Trap Muzik.
Still, T.I. wasn't the first rapper to rhyme about a lifestyle of dealing, pimping and hustling. Artists like UGK, 8Ball & MJG and Master P were doing that before T.I. picked up a mic. They might not have dubbed it "trap music" but the themes and ideas were there.
The word "trap" began picking up steam in the mid-late 1990s, especially via the Atlanta-based rap collective Dungeon Family. On Goodie Mob's 1995 track "Thought Process," Khujo raps, "When I was out in the trap or when I was goin'/Through one of our episodes, only God knows."
On OutKast's 1998 track "SpottieOttieDopaliscious," Big Boi speak-raps, "United Parcel Service and the people at the post office/Didn't call you back because you had cloudy piss/So now you back in the trap, just that, trapped/Go on and marinate on that for a minute." Two years later, the group released "Snappin' and Trappin'" with Killer Mike on Stankonia. The term was being used before T.I.—it just hadn't caught fire yet.
To understand how the sound of trap music came to be, you have to go even earlier in rap's history. In 1980, electronic music instrument manufacturer Roland released the TR-808 drum machine. The machine's initial run was a relative failure, but it obtained a cult following as it was adopted by hip-hop DJs. The TR-808 is a cornerstone of modern hip-hop music—it's the source of the distinct hi-hats and bassy kick drum sounds used in trap music. (Kanye most explicitly leaned on the sound with his 2009 album, 808s & Heartbreak.)
As the 808 made its way to the South in the 1980s, producers found ways to boost the decay knob, which boosted the bass sound. Miami bass music—especially the 2 Live Crew via hits like "Me So Horny" in 1989 and "Banned in the U.S.A. in 1990—used this effect especially. DJ Toomp, who worked with the bass music scene in the South and toured with the 2 Live Crew, brought these techniques to Atlanta. A little over a decade later he'd use those same techniques with T.I. to help define the trap sound.
Producers like Mannie Fresh and DJ Paul further revolutionized the sound of Southern rap throughout the 1990s and early 2000s. The 808 hi-hats and booming bass were combined with symphonic-yet-sinister synths that laid the groundwork for the trap sound. Mannie's work with Cash Money Records (particularly Juvenile's 400 Degreez) and Three 6 Mafia's When the Smoke Clears album might not fit the modern aesthetic of trap music, but the projects laid out the path to the sound we'd get to more clearly.
DJ Toomp was all over T.I.'s early material, including Trap Muzik. Mannie Fresh would join forces with T.I. after his breakthrough. Meanwhile, Shawty Redd began working with Young Jeezy and Gucci Mane. Redd's fingerprints are all over Gucci's Trap House and Young Jeezy's breakthrough Let's Get It: Thug Motivation 101. Zaytoven produced "Icy," a collaboration between Jeezy and Gucci and a landmark single for trap music. These rappers working with these producers began to establish what would be considered trap music.
Lex Luger was the next producer to build on the trap sound. Highly influenced by Toomp and Shawty Redd, Luger produced records for Waka Flocka Flame and OJ Da Juiceman. Luger's work with Waka—especially on the 2010 album Flockaveli—made him one of the biggest producers anywhere. Soon, he was working with Wiz Khalifa, Snoop Dogg and Kanye West.
After that, the floodgates opened. Trap was everywhere, and Luger was at the forefront, producing hits like "B.M.F." for Rick Ross and "H.A.M." for Kanye West and Jay-Z. Rappers like Future and Young Thug started building huge followings as the genre got bigger. Trap producer Mike WiLL Made-It went from working with Gucci and 2 Chainz to Miley Cyrus and Beyoncé in a just few years. The Chicago drill scene was highly influenced by trap music, too. The sound was so influential that EDM producers like Flosstradamus and Baauer began pushing an electronic music subgenre also called trap.
Trap music remains rap's most popular subgenre today, with new artists like 21 Savage and Lil Uzi Vert breaking out as they build on the styles of Jeezy and Gucci before them. Producers who got their start in trap like Metro Boomin and Mike WiLL remain some of the most in-demand producers in all of music.
Gucci and T.I. should be proud of their massive influence on such a dominant subgenre of rap music, but the movement is deeper than a few individuals. There's no "true" inventor of the style. Trap is not what it is today without those two, but it's also nothing without the many rappers and producers that came before them.
See New Music Releases for April 2018