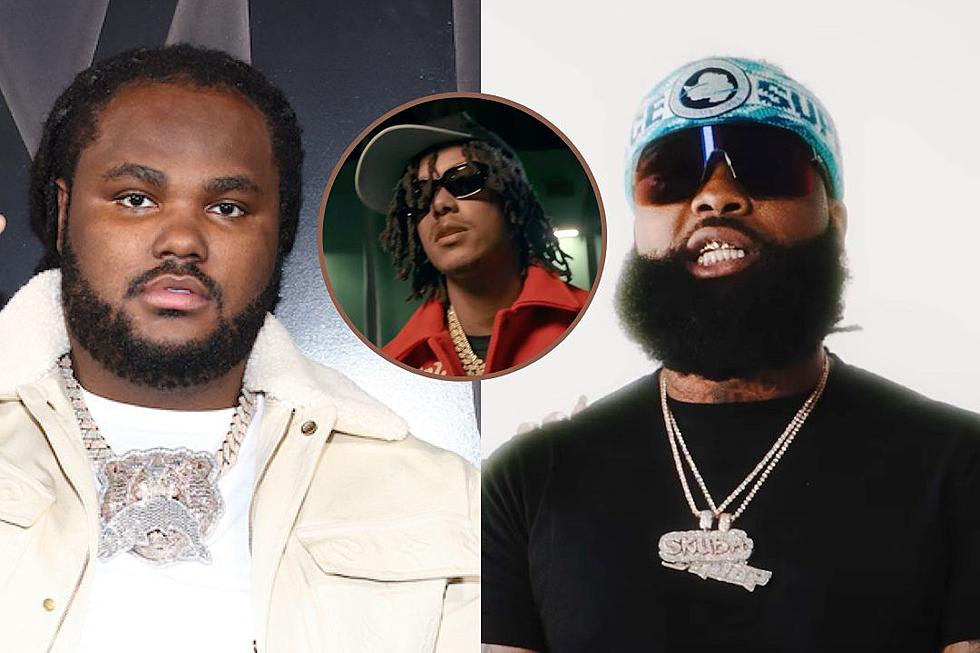 Tee Grizzley and Sada Baby Squash Beef With Skilla Baby's Help
Tommaso Boddi/Getty Images/Skilla Baby/Sada Baby/YouTube (2)
Thanks to Skilla Baby's help, Tee Grizzley and Sada Baby have squashed their long-standing rap beef.
Tee Grizzley and Sada Baby End Their Feud
It looks like Tee Grizzley and Sada Baby have resolved their differences, thanks to Skilla Baby's assistance. On Saturday (July 15), all three Detroit rappers posted photos on their respective Instagram pages to confirm that Tee and Sada have squashed their beef and now a brotherhood exists among the trio.
Skilla shared a series of photos on his IG page of himself hanging out with Tee and Sada. In one photo, Tee and Sada are laughing and joking outside of what appears to be a shopping district. Other photos show the Motor City trio posing together with smiles on their faces, confirming their reconciliation. "I don't know why these two random n***as keep jumping in my pictures," Skilla wrote in the caption.
Tee Grizzley reposted the same image on his IG account writing, "It's bigger than us [100 emoji] #Detroit [bear emoji, tent and tree emoji, and gorilla emoji]." Sada Baby posted it as well, adding, "Amends And Amen [praying hands emoji] [bruised heart emoji]."
How Did Tee Grizzley and Sada Beef Get Started?
The origin of their feud is unknown, however, according to reports, it began in 2018. Interestingly, both D-Town rappers were managed by the late Jobina "JB" Brown, Tee's aunt, who was murdered in 2019.
In March of 2023, Sada told The Hip-Hop Lab in a video interview (watch below) that he doesn't associate with the "First Day Out" rapper at all. "I still don't f**k with Tee," he stated. "I ain't beefin' with him or none of that. We can just coexist and not be around each other."
"I don't wish no harm on Tee, none of that type of s**t. It's just me and buddy not cool," he added.
Thankfully, Tee Grizzley and Sada Baby have come to a reconciliation.
Here are some rap beefs that will probably never get resolved.
See Wild Rap Beefs That'll Probably Never Be Resolved
Pusha-T and Drake, YG and 6ix9ine, and more.