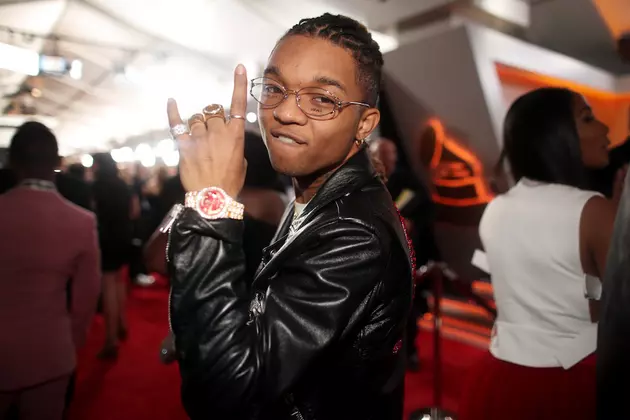 Meet Swae Lee's Two New Pet Pigs
Christopher Polk, Getty Images
How does a platinum-selling rapper celebrate his contributions to a Grammy Award winning album? If he's Swae Lee it's by buying a pair of pet pigs. A video of the Rae Sremmurd member holding one of his new companions was posted to Twitter late Monday morning (Feb. 13).
In the clip, Swae says, "His name Twelve, call him Twelve," though he doesn't specify why but one could assume he was inspired by the slang term for cops. As for what Swae plans to do with the farm animal, he says, "I'ma raise him." The pig doesn't look too comfortable on the pool table, but acclimation is a process.

XXL reached out to Swae Lee to ask him why he decided to get the pair of pet pigs, to which he replied, "Gang gang I got them cuz I'm bout to have a collection of animals I'm getting a monkey next but I always loved animals ..and I'm calling one 12." Looks like the rapper's got love for extraordinary animals.
Swae attended the Grammys both as a member of Rae Sremmurd and as a member of Beyonce's Lemonade team, having contributed to her song "Formation." Though "Formation" lost to Adele's "Hello" for Song of The Year, it won Best Music Video, with Lemonade as well winning for Best Urban Contemporary Album. Despite Beyonce's moving performance of "Love Drought" and "Sandcastles," the evening was largely a disappointment for Lemonade's biggest fans since she didn't win Album of the Year. Kendrick Lamar was equally disappointed.

Rappers have owned bizarre pets in the past, most memorably in 2014 when French Montana introduced his Capuchin monkey Julius Caeser. In a cover shoot with XXL this past July, French posed with the monkey in his Los Angeles crib.
Meet Swae's new pet in the video below, with Kamayiah saying in response, "Y'all would stress me out" in jest.
16 Pictures of Rappers With Wild Animals