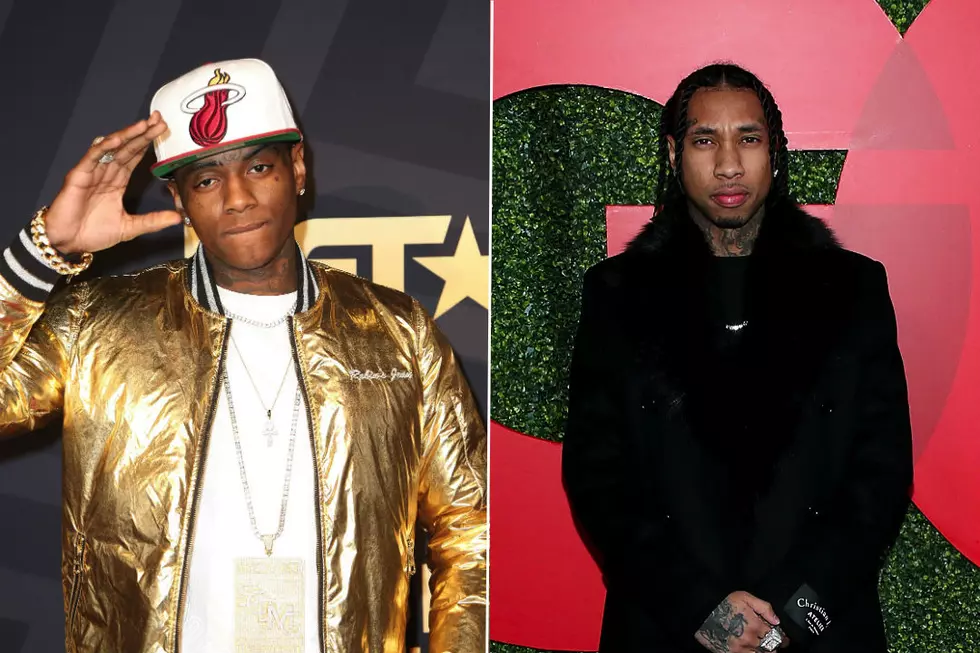 Soulja Boy Calls Out Fans for Saying Tyga Made the Biggest Comeback of 2018
Maury Phillips / Phillip Faraone, Getty Images (2)
During an Instagram Live stream discussing said comeback on Thursday night (Jan. 10), the Soulja got upset when fans in the comments began mentioning the "Dip" rapper.
"Niggas up in here talking about Tyga. Tyga? Tyga?! Huh?" Soulja yelled at the camera. "Tyga had the biggest... Man, get the fuck out of here!"
He went on to call out the rap game as a whole, adding, "You niggas is trash bruh, making this trash ass fucking music, saturating the fucking game. I sat back 2018, I sat back 2017 and watched you lame ass rappers fuck the rap game up. I been in this shit 10 years. I started rapping when I was 17."
Tyga has not yet responded, and it remains to be seen whether he even will.
Last month, Soulja made his case for his 2018 comeback in a series of tweets.
"I had the biggest come back of 2018 big facts," Soulja wrote. "Signed a record deal. Did four new tv shows and signed an endorsement deal with Fashion Nova release my own smart watch and video game console niggaz thought it was over for me after all that beef shit. Never count a real one out! I'm up 20 M's!"
As for Tyga, he did indeed have a great 2018. Following a few years in a bit of a musical obscurity during and after his controversial relationship with Kylie Jenner, his Offset-assisted single, "Taste," was certified 3x platinum by the RIAA, while the Nicki Minaj-assisted "Dip" was recently certified gold.
Watch Soulja Boy call out Tyga's fans on Instagram Live below. Who do you think had the bigger comeback?
See Photos of Soulja Boy's Different Looks Over the Years