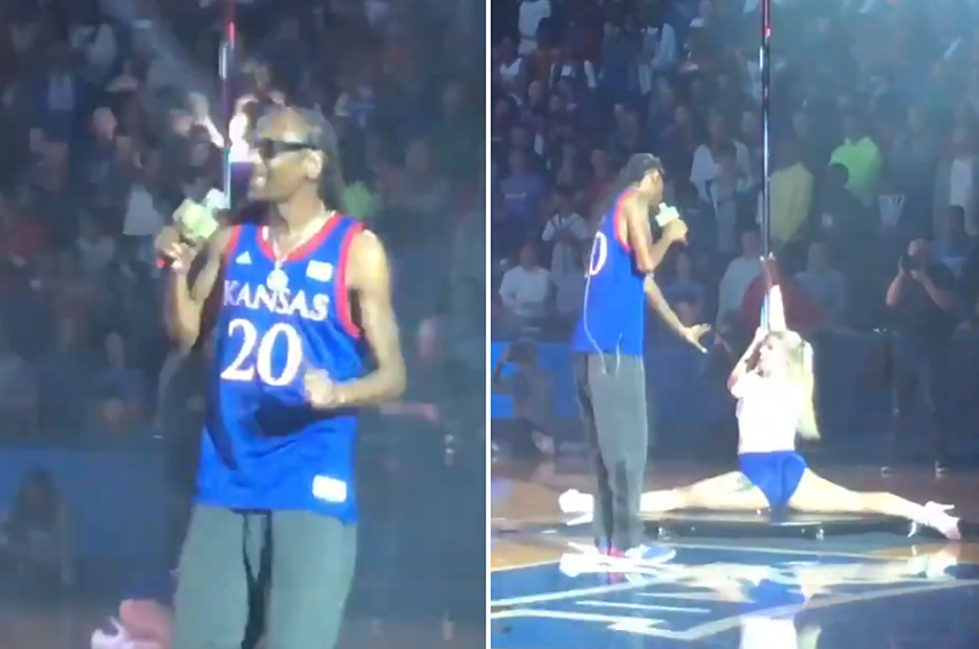 Snoop Dogg Performs at University of Kansas With Pole Dancers, School Issues Apology
MrMichaelLee via Twitter
The University of Kansas is likely second-guessing its decision to hire Snoop Dogg to perform at its Late Night in the Phog event. After the rapper performed a set that included explicit lyrics and pole dancers, the school has issued an apology.
The annual event, which signifies the start of the basketball season, took place at the school's Allen Fieldhouse basketball arena on Friday (Oct. 4). Snoop put on a big 35-minute show that was reportedly supposed to feature radio edits of his songs. Uncle Snoop must not have gotten the memo. He performed the explicit versions of his hits and also had multiple pole dancers performing alongside him at points during the show. One video captured of the set shows the I Wanna Thank Me rapper performing "Gin & Juice" while a woman in short shorts dances on a pole next to him.
The show upset many people in attendance at the family-friendly event, forcing KU athletic director Jeff Long to release a statement late Friday night.
"We apologize to anyone who was offended by the Snoop Dogg performance at Late Night," Long said. "We made it clear to the entertainers' managers that we expected a clean version of the show and took additional steps to communicate to our fans, including moving the artist to the final act of the evening, to ensure that no basketball activities would be missed if anyone did not want to stay for his show. I take full responsibility for not thoroughly vetting all the details of the performance and offer my personal apology to those who were offended. We strive to create a family atmosphere at Kansas and fell short of that this evening."
Check out Snoop's full performance below.
See Photos of Every XXL Freshman Ever Inducted Into the Freshman Class Over the Years