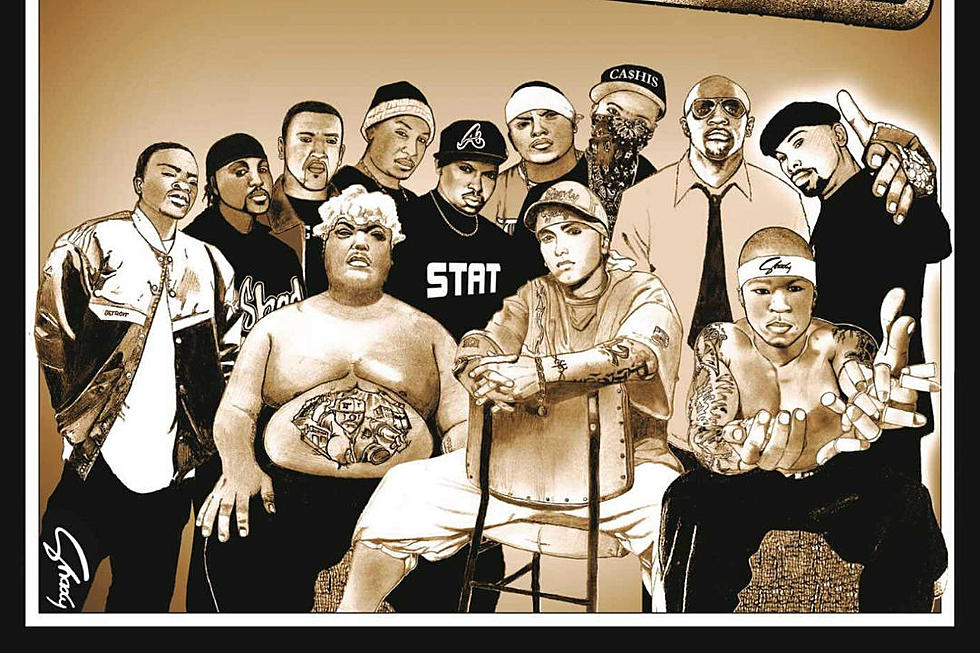 Shady Records Drops 'Eminem Presents: The Re-Up' Album – Today in Hip-Hop
Shady/Interscope
On this day, Dec. 5, in hip-hop history...
2006: On Dec. 5, 2006, Eminem decided to show Shady Records' unity like never before by dropping one crazy compilation album. The album, titled Eminem Presents: The Re-Up, took four years to put together and featured bars from D12, 50 Cent, Obie Trice, Stat Quo, Bobby Creekwater and Ca$his. The album initially started off as an unofficial mixtape to showcase the new artists of Shady Records. But when Em heard how great the bars were and how album-quality the production on the songs were (thanks to Akon, The Alchemist, Dr. Dre and more), he decided to combine more songs to make it a full-fledged LP.
The Re-Up's release was during a weird time in Em's life personal, having just gotten out of rehab and losing his best friend and rap partner Proof in April of that year. It was clear that he poured himself into the music as a way of coping.
Even though critics were shaky about the album, The Re-Up debuted at No. 2 on the Billboard 200 selling 309,000 copies in the first week. Fan favorites off the 23-track project include 50's "Ski Mask Way," the emergence of Bobby Creekwater on "There He Is" and Em's frigid, agile bars on "No Apologies." The LP would go on to become certified platinum in 2007.
12 years later, Eminem Presents: The Re-Up is a testament to Shady Records as much as it is an outlet for the shattered Em leading them.
See Photos of Eminem's Different Looks Over the Years