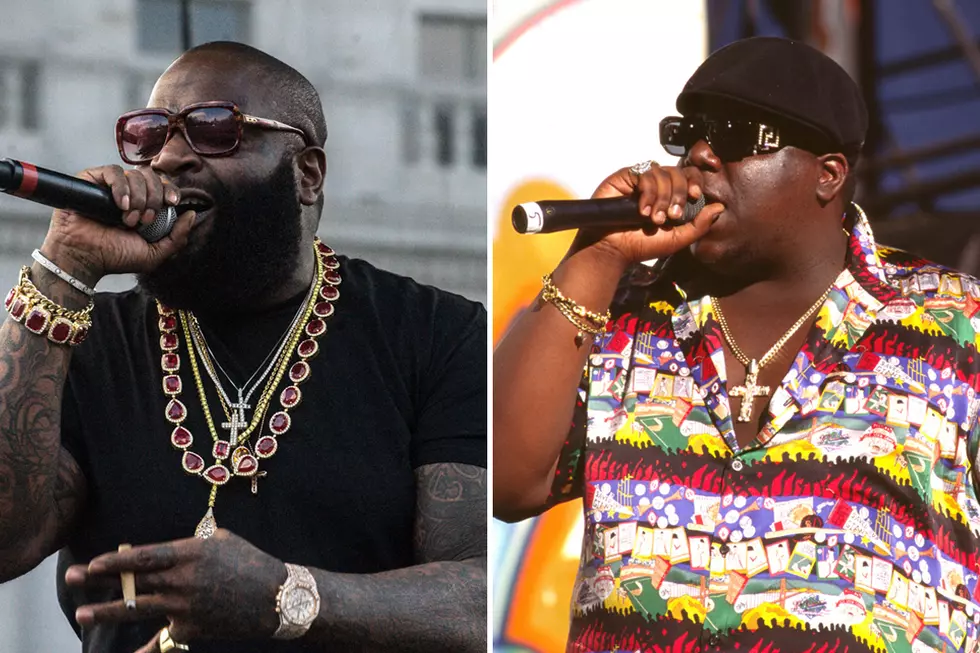 People Are Really Comparing Rick Ross and The Notorious B.I.G. After 'Rather You Than Me' Album Drops
Larry Hulst/Chris Walter, Getty Images (2)
It seems hip-hop fans will find any reason to compare our current rappers with greats of the past. And with competition being a huge aspect of the rap game, it makes sense that fans make comparisons between rappers. Rick Ross just dropped his ninth studio album, Rather You Than Me, and while it definitely has the Internet talking, the conversation this morning (March 17) turned into a comparison betwen Ross and legendary Brooklyn rapper The Notorious B.I.G.
It all started when Twitter user @Scott_CEOofSUH tweeted, "We're gonna discuss Ross & a certain rapper from Brooklyn that is no longer with us at some time today #LetsTalkGuys." Fans quickly took up arms.
"Rick Ross really better than Biggie if we being serious today," wrote one fan on Twitter.
Others jumped into the debate online, citing the rappers' similar flows, rhyme schemes and mafioso personas as reasons to juxtapose them.
This isn't the first time Rozay has drawn comparisons to the late, great Biggie Smalls. Back in 2010, Diddy compared the Miami rapper to his friend and business partner Biggie.
"Yo, y'all gonna peep that when we world premiere that. I don't know, I guess him and Biggie locked up in the room, even my man Hen Roc even said that. For my man Hen Roc to say that and co-sign it like 'Yo, my man right there sounding like our homie.' That right there is something special," said Diddy while on the music video set of their "Angels" collab.
Check out the tweets below to see why fans are making Ross and Biggie comparisons today.
See What People Are Saying About Comparing Rick Ross and The Notorious B.I.G.