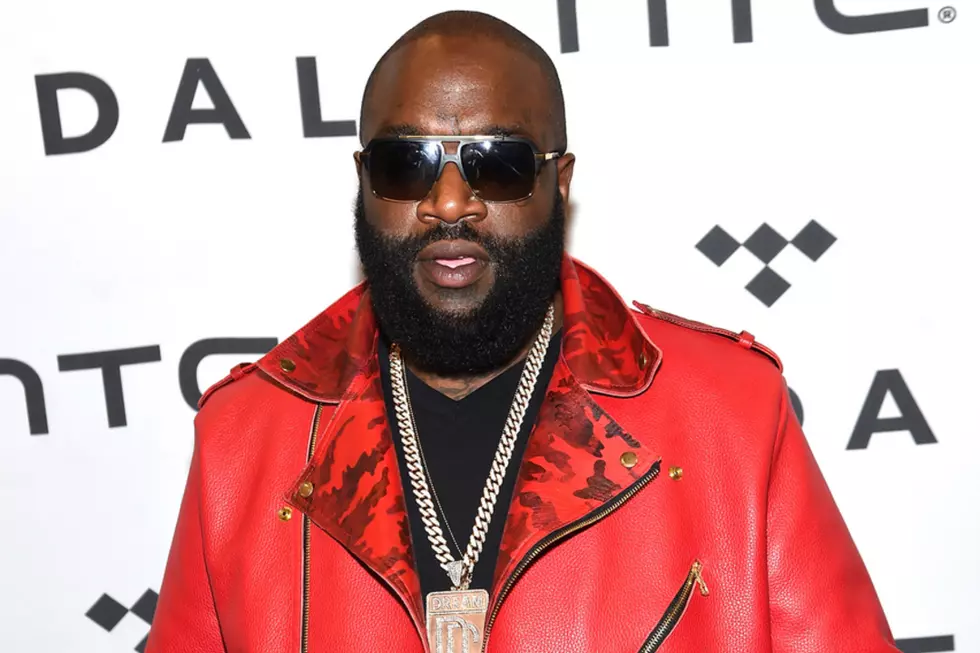 Rick Ross Reveals Name of New Album
Jamie McCarthy, Getty Images
Rick Ross hit the red carpet at the American Music Awards yesterday (Nov. 20), and Rozay took the opportunity to reveal the title of his new album, Rather You Than Me.
The MMG frontman rocked a black crewneck (accompanied by multiple gold chains) with the album name in white, block-letter print. The project is coming in early 2017, but there aren't any details on an exact release date or album cover just yet.
The upcoming album wasn't the only thing Ross was promoting at the AMAs. While on the red carpet, Ross was reading DJ Khaled's new book called The Keys. Rozay said, "A lot of times people ask me, Rozay, what advice can you give me to get where you at?" Then, he pointed at the book, and said, "This has the keys."
The "Hustlin" rapper also took to Instagram to announce Rather You Than Me. It appears that Ross commissioned famous Los Angeles-based artist Mr. Brainwash to do some promotional graffiti, which you can view above via Rozay's IG account @richforever. Keep scrolling down for more Instagram content, including a photo of Mr. Brainwash with the caption, "@mrbrainwash such a powerful spirit!!! He doing something special for #RYTM coming early 2017."
Here Are the Most Anticipated Hip-Hop Projects for the Rest of 2016