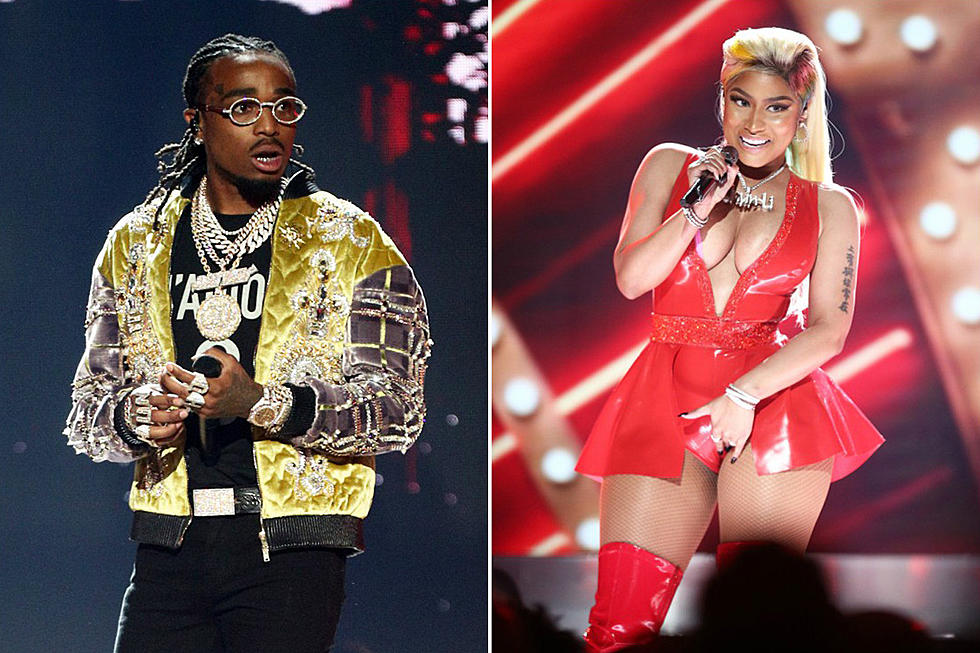 Quavo Admits He Laughed When He Heard His Name on Nicki Minaj's "Barbie Dreams"
Frederick M. Brown, Getty Images (2)
Like many listeners, Quavo admits he had a good laugh when he heard his name mentioned on Nicki Minaj's "Barbie Dreams." The song, which features references to Lil Wayne, 50 Cent, 6ix9ine and more, finds Nicki rapping, "Somebody go and make sure Karrueche okay though/I heard she think I'm tryna give the coochie to Quavo."
Speaking with Hot 97, Quavo called the shoutout crazy and revealed he was as surprised as everyone when he heard his name. "Did you laugh?" host Nessa asked him. "Yeah, I laughed... It was funny," the Migos rapper said. "I heard the album before it dropped but I didn't hear that record," he added.
A play on The Notorious B.I.G.'s 1993 classic, "Just Playing (Dreams)," Minaj hopped on Twitter following the song's release to assure everyone that "Barbie Dreams" isn't a diss track. "I only mentioned people in #BarbieDreams that I fuk wit," she tweeted. "This isn't a diss. Yikes. This is culture, this is BIGGIE!!!!! New York!!!! This is FUN. Light hearted FUN."
In related news, Quavo recently shared the visuals for his Saweetie-assisted banger, "Workin Me." The video for the solo single follows the releases of "Bubble Gum"and "Lamb Talk," the latter which also received a music video.
Quavo and the rest of the Migos are also staying busy on Drake's Aubrey and The Three Migos Tour. The trek continues tonight (Aug. 28) in Brooklyn and runs until Nov. 17 when it wraps up in Atlanta.
Check out Quavo discussing "Barbie Dreams" below.
See Everyone Nicki Minaj Name-Drops on Her Song "Barbie Dreams"