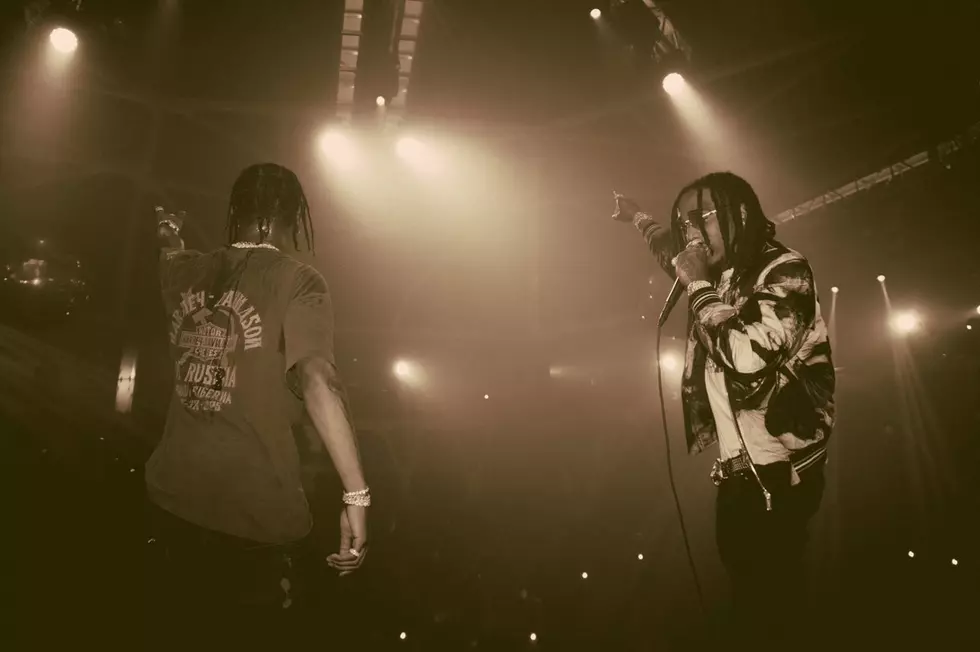 Quavo Debuts Remix of Travis Scott's "Butterfly Effect"
Ray Polanco
During a recent Migos show, DJ Durel played Quavo's "Butterfly Effect (Remix)" and the crowd went crazy. For their part, Migos mouthed some of the words to the song, which finds Quavo using his signature slightly delayed staccato flow in his approach to the instrumental. Scott floated on the instrumental; Quavo attacks it.
"Lil nigga who are you, must be bulletproof/This shit bigger than you/V.I.P. my squad, dropoff all the gang/V.I.P. the lane, V.I.P. the chain," he spits on the track.
Unfortunately, the remix itself hasn't been released yet. This one's just a video of the moment it was premiered at a Migos show, though, it doesn't appear that DJ Durel plays the whole thing.
The "Butterfly Effect (Remix)" is just another reminder of how fire a Travis Scott/Quavo joint project could be. With both of them having such a knack for melody and choosing beats that perfectly suit their vocals, there's no choice but to think they'd have some serious synergy.
Speaking on the project earlier this month, Quavo explained it is "going to drop real soon, real soon." He also revealed the number of tracks the two had worked on together. "We've been making a whole bunch of records; we got a lot of records together right now, we've probably got like 20 records, we just need to get some time and just sort 'em out," he explained.
Check out Quavo's "Butterfly Effect (Remix)" below.
See Photos of Travis Scott's Different Looks Over the Years