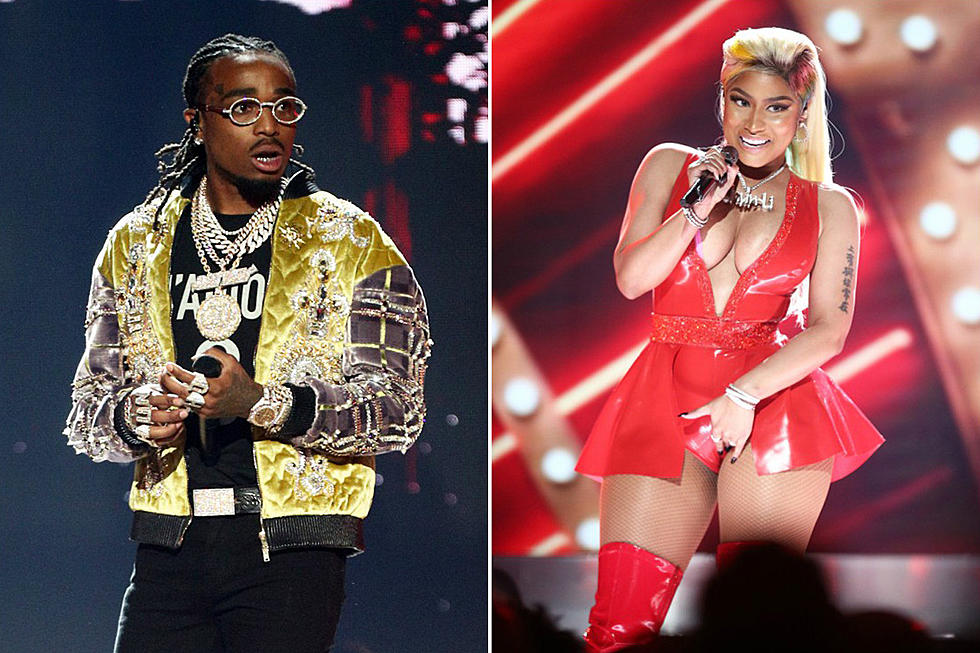 Quavo Alludes to Fling With Nicki Minaj on New Song "Huncho Dreams"
Frederick M. Brown, Getty Images (2)
Have Quavo and Nicki Minaj ever been a thing ? Publicly, not too much has indicated that they've been connected romantically, but Huncho himself seemingly alluded to having a past fling with Nicki on "Huncho Dreams," a new track from his debut solo album, Quavo Huncho.
On the track, which appears to be a response to Nicki's Queen single, "Barbie Dreams," Quavo serves up some very raunchy lyrics about Nicki, detailing a variety of sex acts over the course of a few minutes. But before we get to those, let's look at the lines preceding the pornographic bars.
In the first part of the track, Quavo seemingly references an Instagram video in which Nicki opens a gift box with a Chanel purse inside of it. At a Quavo Huncho listening party in Los Angeles last night, Huncho used a Nicki impersonator to recreate the scene before he played the song, which finds him claiming to have copped Nicki the bag (two of them).
"Made her scream (Scream)/Chanel, I bought her two of 'em/You can check IG (Hey, IG)/'Cause when she post, it go up (Go)/Is she for keeps? (For keeps)/Only if she come with two of 'em (Two)/Yeah, I be snipin' (Snipe, snipe)," he raps.
Now, if you do some Instagram digging, let's say, all the way back to July 2, you'll see a video of an ecstatic Nicki unboxing a Chanel bag. In the caption for the post, Nicki wrote, "Thank you 😛😍 you know the way to a Barbie's ♥️😋🏆 👛 👜." The aforementioned re-creation of this scene looks very similar.
Further along in the song we get to Huncho's very graphic lyrics about having sex with Nicki. During this part of the track, Quavo references Nicki's 6ix9ine collab, "Fefe," before getting raunchy.
"Nigga don't mean to brag (No)/I be tryin' to keep it cool, but I sniped yo' ass (Swear)/No 'Fefe,' I skeet-skeet ('Fefe') on yo' face ass (Face ass, brrt-brrt)/Called up Huncho to come tap that ass (Swear)/Pull up on you, autotune when I grip that ass (Skeet, skeet)/Pullin' on yo' weave, 'cross the room when I pipe that ass (Pipe)," raps Huncho a short while before interpolating Drake's "In My Feelings" hook and replacing "Keke" with the name "Nicki."
Adding to a mountain of apparent Nicki references, Quavo seemingly name-drops Nicki's ex-boyfriend Safaree Samuels in the song's hook. "I'm straight out the jungle (Hey), no safari (No)," Huncho half-croons in one part of the chorus.
Now, there's always a chance that this track is just Quavo's way of joking. After all, Nicki did name-drop him on "Barbie Dreams." On the track, Nicki raps, "Somebody go and make sure Karrueche okay though/I heard she think I'm tryna give the coochie to Quavo/They always wanna beat it up, goon up the pussy/Man, maybe I should let him autotune up the pussy," she rapped, making time to name-drop Quavo's once-rumored girlfriend, Karrueche Tran.
Listen to "Huncho Dreams" for yourself above. Watch a video of Nicki opening her Chanel bag and Quavo's (seeming) recreation of it below.
See Photos of Nicki Minaj's Different Looks Over the Years