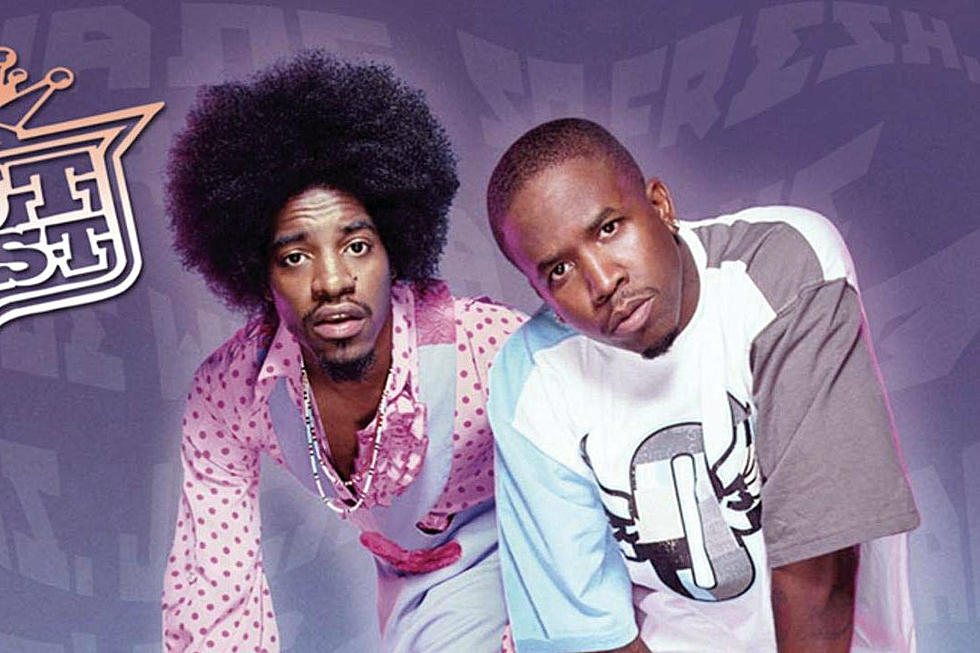 OutKast Drop 'Big Boi & Dre Present: OutKast' Album – Today in Hip-Hop
Arista Records
On this day, Dec. 4, in hip-hop history...
2001: Following the success of their crossover Billboard Hot 100 hit single "Ms. Jackson," OutKast released their greatest hits album Big Boi and Dre Present: OutKast through Arista Records on December 4, 2001.
At this point in time, Andre 3000 and Big Boi, who formed the group while attending the same high school in the East Point section of Atlanta, GA., had long been established as one of the most influential rap duos to ever come out of the South. But it was the mainstream crossover success of their 2000 album Stankonia that deemed the Dungeon Family frontmen worthy of a stand alone greatest hits release.
Big Boi and Dre Present: OutKast was primarily made up of tracks from their three previously released albums. "Ain't No Thang," "Southernplayalisticcadillacmusik," "Crumblin' Erb," and "Player's Ball," were the considered the best offerings from their Organized Noize-produced debut album Southernplayalisticcadillacmusik. Three more tracks, "SpottieOttieDopalicious," "Aquemini," and "Rosa Parks," came from what many consider the quintessential OutKast album Aquemini, the LP that saw Daddy Fat Sacks and 3-Stacks go from simply being "two dope boys in a Cadillac," to being established as premier producers in the game. Even though their Grammy Award winning Stankonia project had been released only a year prior, three of that album's songs, "So Fresh, So Clean," "B.O.B." and of course, "Ms. Jackson" made it onto the impressive tracklist.
One of the only criticisms about the compilation from 'Kast fans was that for some reason, there is only one track from their beloved ATLiens album. Despite having been mentioned in many circles as one of the greatest hip-hop albums of all time, only one of the project's three singles, "Elevators (Me & You)," made it onto Big Boi and Dre Present: OutKast.
In order to ensure that there was no chance any skeptical fans were left unsatisfied, the duo included three brand new songs on the album, the popular of which, lead single "The Whole World," featured a fire verse from Run the Jewels MC Killer Mike and peaked at number 19 on the Billboard Hot 100.
Big Boi and Dre Present: OutKast itself reached a peak of number 18 on the Billboard 200 and is certified platinum by the RIAA.
The success of the greatest hits compilation paved the way for the 2004 release of what would soon be OutKast most commercially successful project Speakerboxxx/The Love Below, the groundbreaking double album that is certified diamond and 11 times platinum. 
See 60 Hip-Hop Albums Turning 20 in 2018