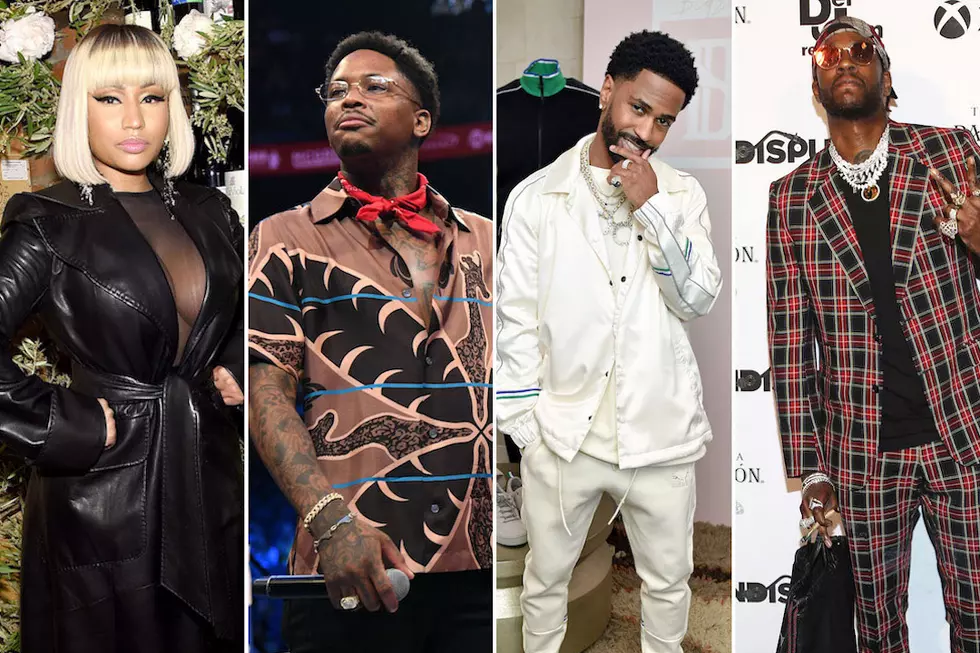 YG Teases Collaboration With Nicki Minaj, Big Sean and 2 Chainz
Jamie McCarthy/Ethan Miller/Neilson Barnard/Tommaso Boddi, Getty Images (4)
Last night (May 23), YG posted a video to Instagram that features the rapper stepping out of his G-wagon vehicle to throw huge stacks of money in the air while in front of an extravagant mansion. In the background you can hear a song that appears to feature the "Suu Whoop" rapper spitting some new bars over a DJ Mustard beat. "👀👀👀👀👀👀👀 @mustard," he wrote as the caption.
For Nicki's IG post, the hip-hop star tagged YG in her caption, as well as Big Sean and 2 Chainz, implying that the track could hit our ears tonight (May 24). "Ayo @yg @2chainz @bigsean WHAT'S GOOD?!??!!!!!!!! BigTake Lil T O M O R R O W NIGHT " she writes in the caption.
The track follows "Suu Whoop," the lead single from YG's forthcoming album, Stay Dangerous. In February, YG confirmed his new project was officially on the way during his The Boogie All-Star Weekend event in Los Angeles. "If y'all one of my real fans, y'all gon' be really motherfuckin' happy about this shit," he told the crowd. "It's been a long time coming. My new muthafuckin' album on the muthafuckin' way, Stay Dangerous, got damn it."
Check out a preview of YG's new collab and Nicki's announcement tease below.
See New Music Releases for May 2018