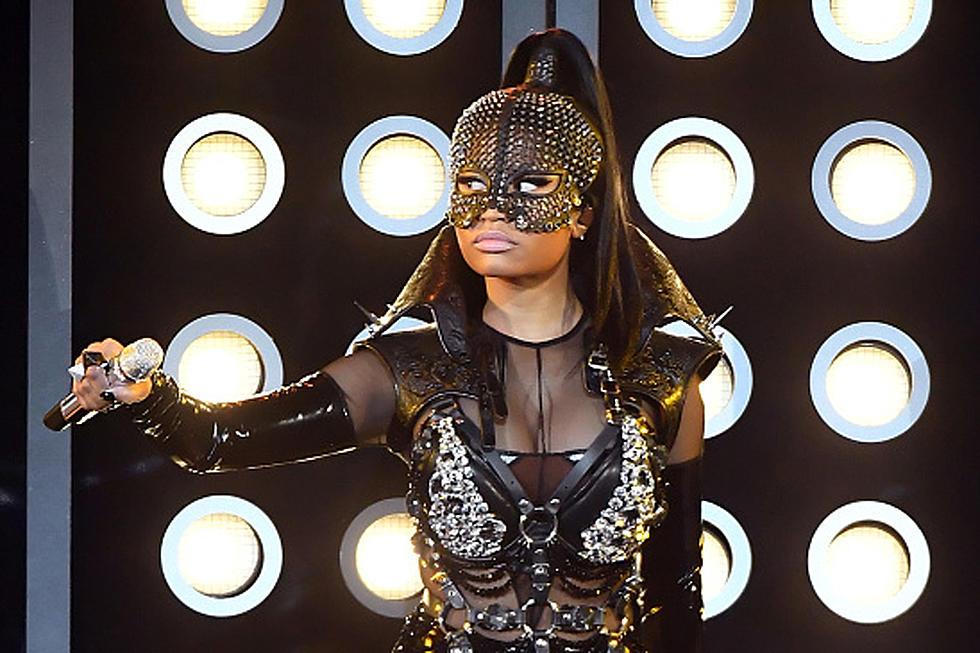 Nicki Minaj Opens 2017 Billboard Music Awards With Performance Featuring Lil Wayne, David Guetta and Jason Derulo
Ethan Miller, Getty Images
Onika opened up her nine-minute performance Sunday night (May 21) with dancers performing a medley of her older hits like "Super Bass," "Anaconda" and "Starships." Just as fans relished in the mini trip down memory lane, the Young Money rapper appeared from behind a screen donning a bejeweled face mask to rap her latest single "No Frauds." The whole stage set up was straight out of a Mad Max scene and fans went extra crazy when Lil Wayne popped up to spit his verse.
Following "No Frauds," Nicki ditched the mask and switched up with mood to perform the David Guetta-assisted "Light My Body Up." The rapper gave all her male admirers out there yet another moment to drool when she bent over and did a slow wine while David Guetta pumped up the crowd from behind the DJ booth. Keeping the temperature rising, Nicki was joined on stage with dancers to set it off with their latest track "Swalla." Derulo's neon back up dancers definitely gave Nicki and her crew a run for their money.
Finally, for the last scene in the Minaj BBMAs mosaic, the Queens rap star reenacted the water music video theme from her "Regret in Your Tears" video. Of course, Nicki ended the whole thing by standing on an elevated pedestal above the crowd and her dancers.
Check out the performance below.