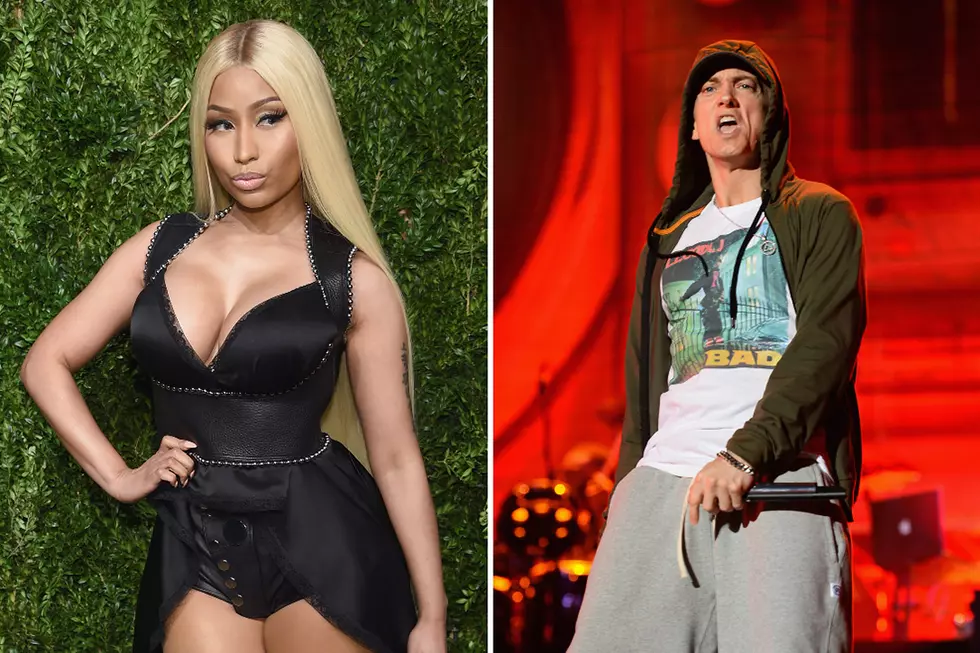 Nicki Minaj's Intro for 'Queen' Album Will Feature Eminem Screaming Her Name
Dimitrios Kambouris / Theo Wargo, Getty Images (2)
During his recent performance at the 2018 Governors Ball Festival over the weekend, Eminem screamed out Nicki's name to the crowd, stating that the two belonged together.
"Nicki! Let's do this! I'ma tell you something about Nicki that she don't even know," he said. "We go together."
While reposting the footage on Instagram, the Nicki reveals that she has "found the intro" to her forthcoming album.
"I just found the intro to my album," she writes in the caption. "He the The sound of him screaming my name just completely confirmed to me in my head that I'm extremely & utterly afraid of Slim Shady y'all know he BEEN tf CRAZY! If he say we go together then bitch we go togeva all I did was post my lil verse y'all I swear ."
While this could simply be another case of the two trolling fans, this wouldn't be the first time that Em would have a feature on a Nicki Minaj project. The two previously collaborated on "Roman's Revenge" off of Nicki's debut Pink Friday album, which became an instant fan favorite.
We'll have to wait until Aug. 10 to see what the final product sounds like from Nicki, but hopefully this intro is confirmed so we can hear Slim Shady show love to the female spitter to kick off the project.
Watch the footage of Eminem screaming Nicki Minaj's name below to hear what she plans to use as her album intro.
See Photos of Nicki Minaj's Different Looks Over the Years