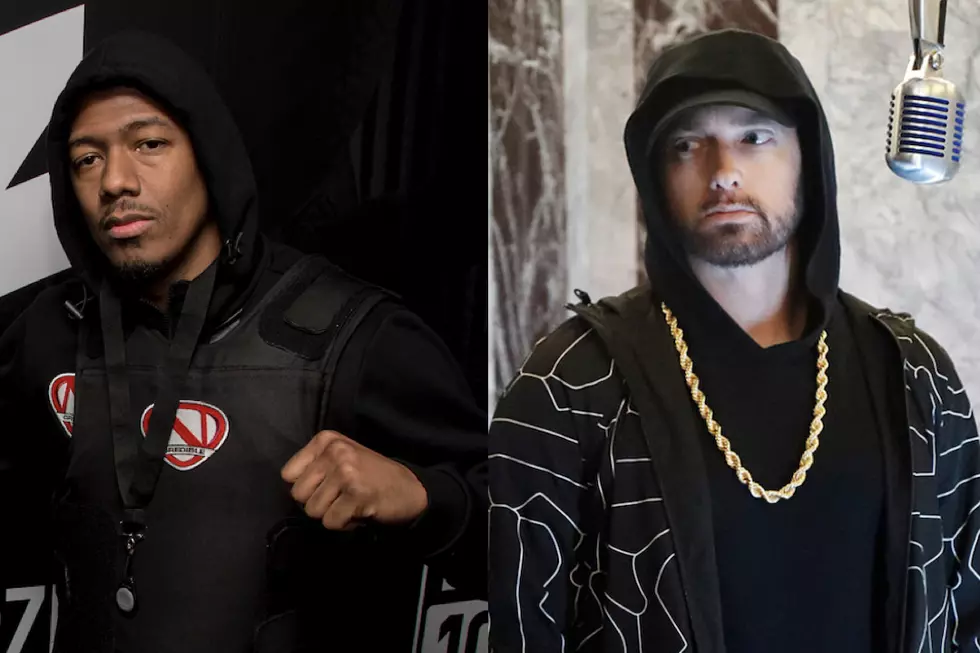 Nick Cannon Tells Eminem to "Get Out Your Wheelchair" and Battle on Wild 'N Out
Gabriel Olsen / Randy Holmes, Getty Images (2)
During a Friday (Dec. 6) episode of his Power 106 FM morning radio show program, Nick Cannon Mornings, Nick clapped back at Slim Shady for dissing him on Fat Joe's song "Lord Above" from Joey Crack's just-released Family Ties album. Cannon called the Detroit rhymer an old man.
"We should change his name from Eminem to Percocet," he said. "What's the pill old people use, we should change it to...we are going to call him Cialis. Get out your wheelchair Eminem and pop whatever you want to pop."
Nick also challenged Em to a rap battle in the caption. "Let's Wild Out Marshall!!!" Nick wrote, referring to his popular MTV show Wild 'N Out where comedians battle it out with put-downs of each other.
Nick and Eminem's long-standing rap feud started back in 2009. Em revisits it on Fat Joe's song "Lord Above." In his verse, Slim Shady jokingly raps that Nick's ex-wife Mariah Carey, whom Em has insisted he used to date, neutered him during their marriage.
"I know me and Mariah didn't end on a high note/But that other dude's whipped-that pussy got him neutered," he spits on the song. "Tried to tell him this chick's a nut job before he got his jewels clipped/Almost got my caboose kicked/Fool, quit/You not gonna do shit/I let her chop my balls off too before I lose to you, Nick."
Well, Nick wants to challenge Eminem to a rap battle. The ball's in Em's court now. Watch Nick Cannon clown Eminem below.
See 21 of Hip-Hop's Most Unfortunate Rap Beefs