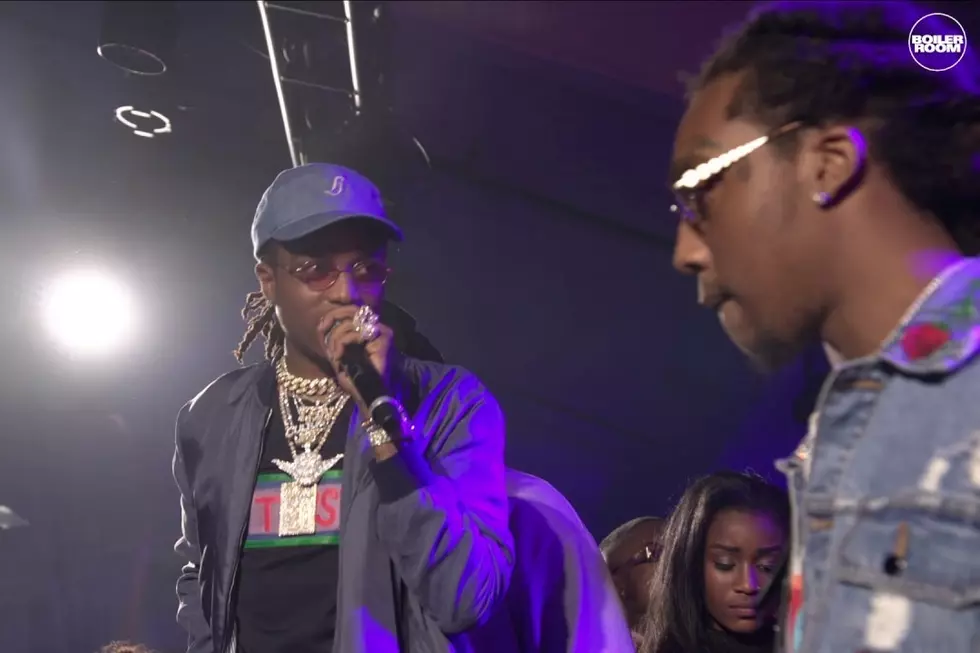 Migos Perform "T-Shirt" and "Bad and Boujee" at the Boiler Room
Boiler Room
Migos know how to entertain all types of crowds. The trio displayed their ability to make an audience turn up during a set at Boiler Room's F is for FENDI party on Feb. 10. The group had fans in a frenzy while performing "T-Shirt" and "Bad and Boujee."
Quavo, Takeoff and Offset got a little help too with Metro Boomin serving as their DJ. Lil Uzi Vert also joined them onstage to perform his verse from "Bad and Boujee."
The last six months have been the most successful run of Migos' career, and they hope to continue that momentum. The trio inked a deal with Motown and Capitol Records, which could help them do just that.
"This is a very exciting time for QC and Migos," Quality Control CEO Pierre Thomas said. "We have been independently building our brand, and though our partnership with Motown/Capitol they have shown us that this is the right home to take our business to a global platform."
Motown President Ethopia Habtemariam was also excited about the new partnership. Migos' popularity is at an all-time high, so that enthusiasm is understandable.
"The members of Migos are true artists who are representing and driving youth culture as they break boundaries with their music. Less than two years ago, we began our relationship with QC because we believed in them and were aligned in a mission and purpose to propel our culture to a global market—and we are doing just that."
Watch Migos' performance at the Boiler Room below. And for information, head over to the Boiler Room's official site.
10 Critically-Acclaimed Books Rappers Live By