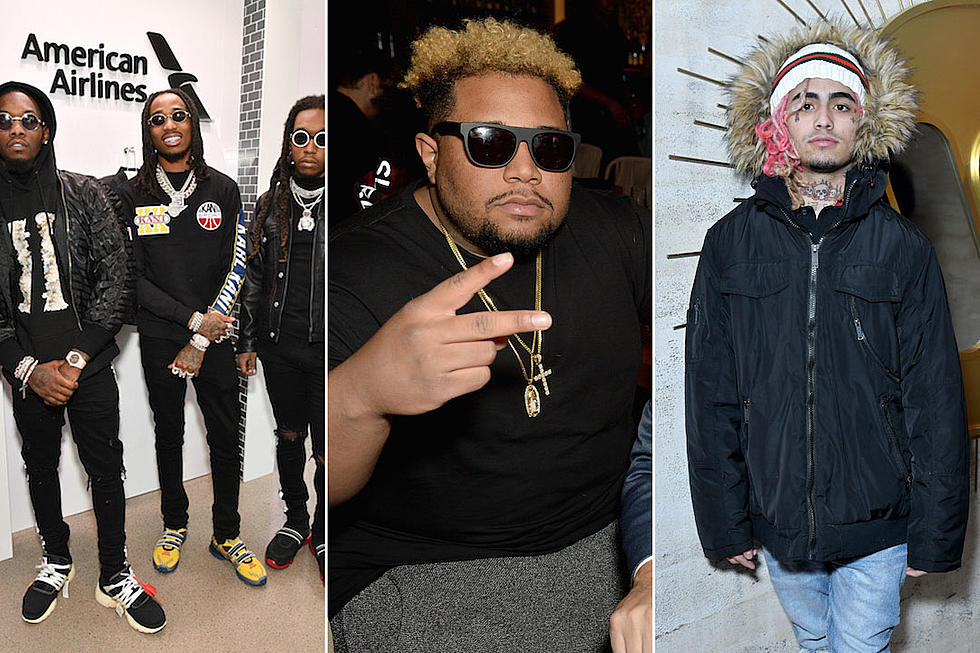 Migos, Lil Pump and More Will Appear on Carnage's 'Battered, Bruised & Bloodied' Album
Dia Dipasupil/Gustavo Caballero/Jared Siskin, Getty Images (3)
Carnage is preparing to release his anticipated Battered, Bruised & Bloodied album, which will be released next Friday (April 13) after being postponed from its original March 2 delivery date. The prolific DJ unveiled the official tracklist for the project via Instagram yesterday (April 4), teasing guest features by the likes of Migos, Lil Pump and Mac Miller.
Other guests on Battered, Bruised & Bloodied include Madeintyo, Lil B, Steve Aoki, Young Troy, Takeoff, Yung Pinch, Deko, Killy and plenty more. The project contains a total of 13 tracks.
Carnage has been teasing this project for some time, offering a preview in January with the release of "i Shyne." At the moment, the producer is promoting the album while on the road. His tour schedule kicked off on March 2 in Philadelphia and is slated to wrap up on April 28 in San Luis Obispo, Calif.
Check out the official tracklist for Carnage's upcoming Battered, Bruised & Bloodied album below.
Carnage's Battered, Bruised & Bloodied Tracklist
1. "Headlock" Featuring Killy
2. "Block You" Featuring Deko
3. "Learn How to Watch" Featuring Mac Miller and Madeintyo
4. "i Shyne" Featuring Lil Pump
5. "Motorola" Featuring Lil B
6. "Up Now" Featuring Scarlxrd
7. "Morokomba!" Feturing Skellism
8. "Plor Genocide" Featuring Steve Aoki and Lockdown
9. "Visa" Featuring Young Troy
10. "Close to Me" Featuring Reo Cragun
11. "Overtime" Featuring Sebastian and Kyle
12. "Bed Bugs" Featuring Nessly, Yung Pinch and Takeoff
13. "Waterworld" Featuring Migos
See New Music Releases for April 2018