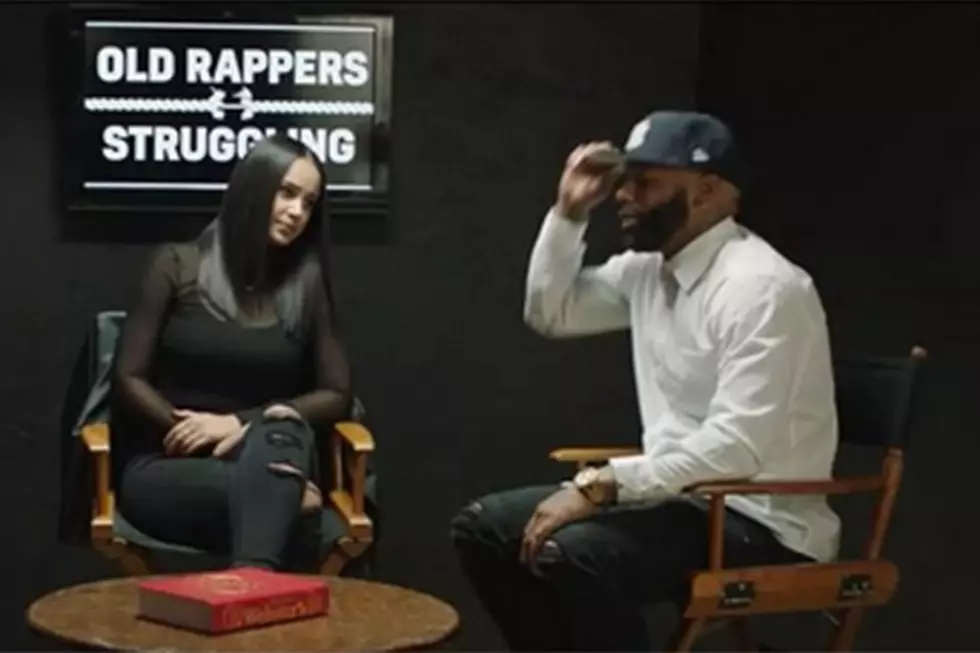 Watch a Preview of Quavo's "Ice Tray" Video With Joe Budden Look-Alike
migos via Instagram
Migos is doing all they can to hype up Quavo's upcoming "Ice Tray" video, and now, the group has released a teaser for the upcoming visuals.
As it was previously reported, the video features look-alikes for Joe Budden, DJ Akademiks and Nadeska Alexis—the co-hosts of Everyday Struggle. The "Ice Tray" teaser kicks off with a spoof of the show's set, changing the web series' title to "Old Rappers Struggling." Fake Joe Budden then slams his hat to the ground before saying, "Man, they not about the culture. They making hundreds of thousands in shows, million dollars in endorsements."
He continues, "Look at they jewelry. I ain't have jewelry like that." The preview ends with the Budden look-alike flipping a table and yelling, "It's not hip-hop!"
The visual also features the fake DJ Akademiks yelling out, "I love him!" The line is meant to make Akademiks look like he has a bromance with Budden.
The beef between the Atlanta trio and the New Jersey rapper stems from a confrontation at the 2017 BET Awards, where the parties almost came to blows after Budden cut an interview short and stormed off the set. While there hasn't been any issues between Migos and Budden since then, that all changed when Quavo dropped his new song "Ice Tray" earlier this month and took a shot at Budden.
"Ice tray on nigga, flooded/If a nigga hatin', call him Joe Budden (pussy)/Coupe outside and it's press-button/Had that nigga mad cause your bitch fuckin'," Quavo raps on the song, which is featured on the Quality Control compilation project, Control the Streets: Volume One.
Check out the teaser for the "Ice Tray" video below.
See New Music Releases for December 2017