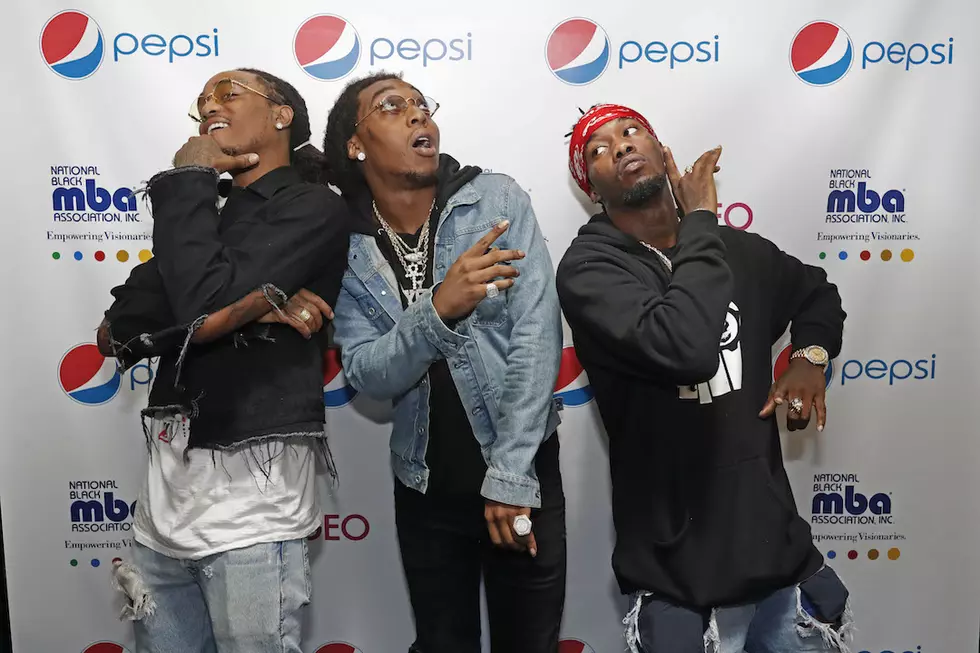 Watch Migos Give the Atlanta Falcons a Pre-Game Pump Up Speech for the 2017 Super Bowl
Tyler Kaufman, Getty Images
It's Super Bowl Sunday in America once again and with this year's match up being the New England Patriots and the Atlanta Falcons, plenty of rappers are chiming in on which team with take home the big win. Being born and raised in North Atlanta, Migos are obviously rooting for the Falcons. But the guys decided to take their team spirit a step further.
Quavo, Offset and Takeoff stopped by Sports Illustrated earlier this week to offer up their words of encouragement to the Falcons before game time because really, who wouldn't want a pep talk from these guys?!
"This one right here's for all the marbles," said Quavo. "We bringing the goose back, the golden egg. And fight for your brothers. You need your brothers, love your brothers, take them to the top 'cuz right now, this is the time when you need everybody to play they part, play they role and do they job."
Takeoff kept things short and sweet by saying, "It's a team man. Y'all didn't get here with one player. Let's tick together, man."
The ATL trio have found themselves aligned with Super Bowl a lot this past week. After the rappers dropped their sophomore album Culture at the end of January, hip-hop's reception to the project was so great, fans started a petition to have Migos replace Lady Gaga as the halftime performer. Atlanta Falcons player Julio Jones got custom Migos cleats painted specifically for the 2017 game and the rappers told TMZ Sports they've got $300,000 cash riding on the score of tonight's game.
Here's hoping the Falcons will see this video in the locker room before their team huddle.
20 Rappers Give Their Predictions on Which Team Will Win the 2017 Super Bowl