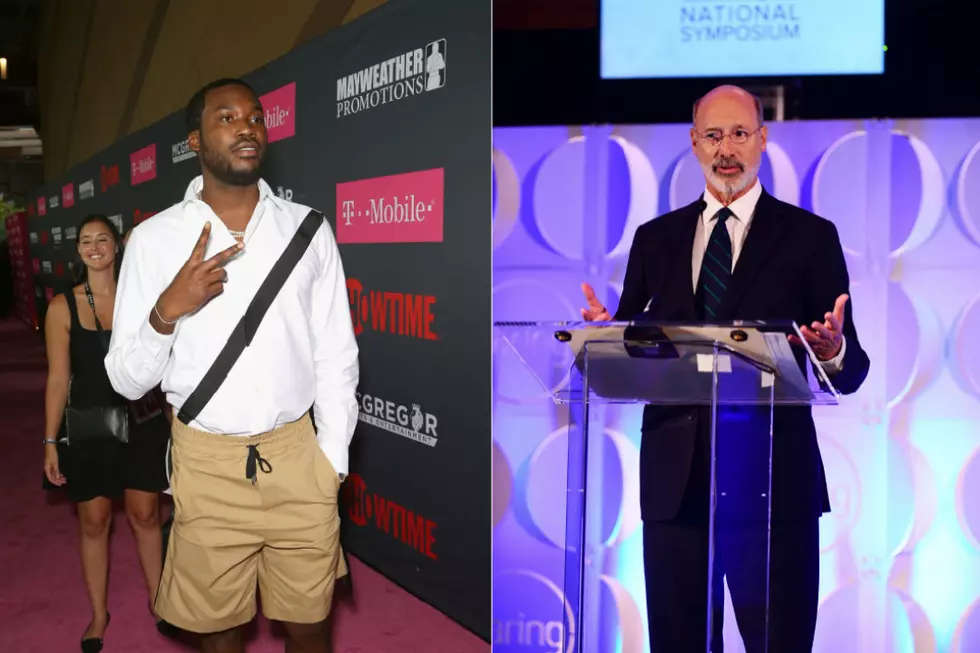 Meek Mill Gets Support From Pennsylvania Governor Tom Wolf
Gabe Ginsberg / Lisa Lake, Getty Images (2)
With more and more info seemingly coming out by the week about possible police corruption in Meek Mill's case, the chances that he is let out appear to be getting stronger and stronger. Now, Pennsylvania Governor Tom Wolf is expressing his support for the incarcerated rapper's attempts at freedom.
As recently reported, Meek's case has been getting a lot of attention, following a report about possible corrupt policing in his arrest from 2007, which lead to the probation issues which landed him in prison late last year. The officer who arrested the rapper has a history of corruption and was once investigated by federal authorities. The revelation may prove to be helpful in getting Meek's case overturned.
On March 15, Philadelphia District Attorney Larry Krasner submitted a filing in the case that reads in part, "there is a strong showing of likelihood of the Petitioner's conviction being reversed (in whole or in part)."
Now, Wolf is letting his support of the decision be known. Yesterday (March 23), Wolf responded to a Philly.com tweet about Krasner's non opposition to the possibility of Meek being released with the following tweet: "I support D.A. Larry Krasner's position in the case of Robert Williams (Meek Mill). Our criminal justice system is in need of repair. That's why my admin has made efforts to invest in programs that divert individuals from the system, improve public safety, and promote fairness."
Meek's lawyer Joe Tacopina has issued a statement on Wolf's support of his client. "We are grateful for the Governor's support of Meek Mill and this is further indication that Meek should not spend another minute in jail," it starts. "Following the District Attorney's response to our filing, we immediately wrote to Judge Genece Brinkley and she has yet to respond. Never in my career have I ever seen a Governor and District Attorney publicly state that a defendant should be granted bail, yet Meek still remains wrongfully imprisoned."
Check out Pennsylvania Governor Tom Wolf's stance on the Meek Mill case below.
See Photos of Meek Mill's Different Looks Over the Years