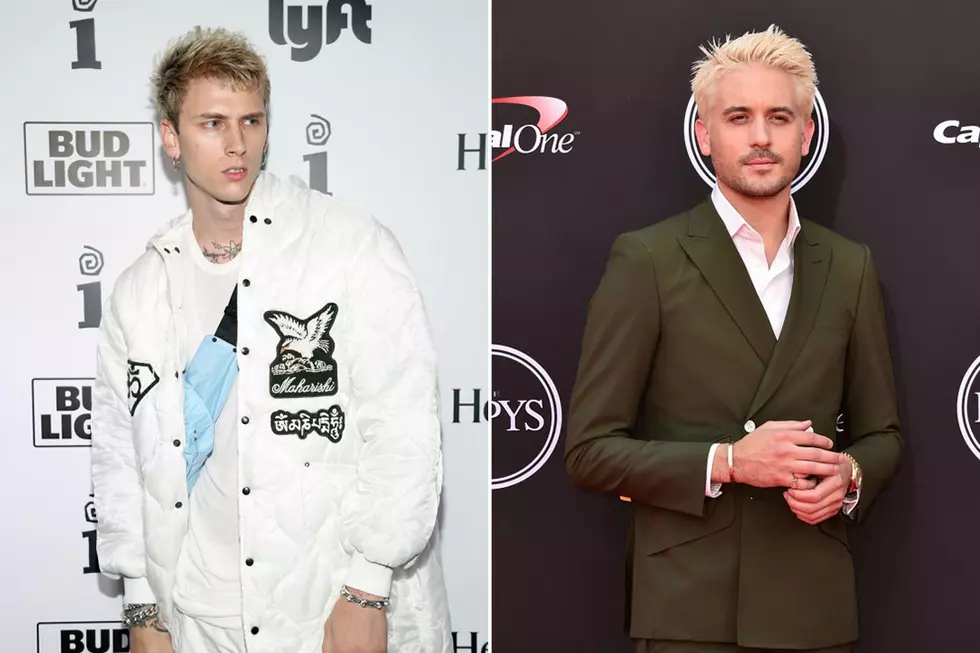 Machine Gun Kelly Takes Shots at G-Eazy in New Funkmaster Flex Freestyle
Cassidy Sparrow / Alberto E. Rodriguez, Getty Images (2)
Just a little over a month after posting a message fans believed to be a subtweet directed at G-Eazy, Machine Gun Kelly has jumped head-first into a beef with the Bay Area rhymer. On Thursday night (Aug. 30), MGK did so by stopping by the studio of Funkmaster Flex to deliver a freestyle dissing G-Eazy over the beat for Drake's Tay Keith-produced track "Nonstop." 
Pulling up with nothing but disrespect, MGK sounded like he was energized by all the shade he was about to let loose. Over the course of a few minutes, the Cleveland, Ohio rapper accuses Gerald of making "frat rap" and copying his hairstyle before he claims that he slept with one of G-Eazy's girlfriends. Although he was recently spotted with his ex-girlfriend Halsey, G-Eazy is believed to be single.
"Only Eazy I fuck with is E/I seen he dyed his hair and got a hanging earring/I fucked his girl/Now he looks like this shit is overbearing/How dare him, I dare him/Don't think about comparing/Now turn that frat rap off, I get sick of hearing," he spits on the hardbody instrumental.
While Kelly doesn't specify which woman he's talking about, plenty of people think he's talking about Halsey, a singer whom G-Eazy split from earlier this summer. MGK and Halsey were seen together in public shortly after her and G-Eazy called it quits. The Bay Area rapper seemingly addresses MGK's claim in "Bad Boy," an MGK diss track Gerald released just hours after MGK's Funk Flex freestyle.
"Disrespect her again, I'll smack you, I'm not a boy/Opened up my savage, usually I don't do this shit/I don't got too much time, let's be honest, and let's get to this shit," G-Eazy raps on his scathing response track.
It's unclear where this beef will go from here, but it doesn't sound like either rapper is really willing to back down. Don't be surprised to see a round two.
Check MGK's freestyle below. Listen to "Bad Boy" beneath that.
See Photos of G-Eazy's Different Looks Over the Years