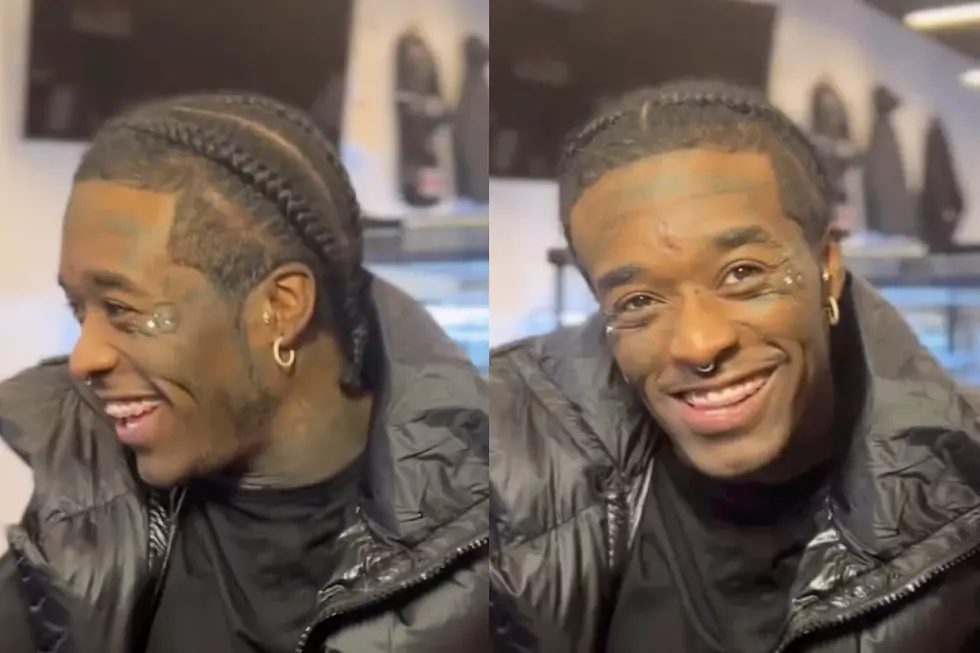 Lil Uzi Vert Gets Six New Face Piercings
fambie/Instagram
Lil Uzi Vert loves to get his face pierced. So much so, the Philadelphia rapper recently got six new face piercings.
On Friday (Jan. 13), a licensed piercer who goes by @fambie on her Instagram account posted a video of herself performing six dermal piercings on Lil Uzi Vert's face. In the clip, the Philly rapper is all smiles as he allows his face to get punctured and inserted with what looks like small diamond gems. At one point, Uzi is in the chair smiling as the piercer is dabbing blood up with a cotton pad after poking a hole in the rapper's mug. Overall, it looks like Baby Pluto got three facial piercings apiece near both sides of his cheeks.
"6 MORE dermals all at once? we did that! HUGE thx 2 uzi [golden cup emoji]," reads the caption with Uzi's 2015 song "Super Saiyan" as the video's soundtrack.
Four days prior, Lil Uzi Vert visited Fambie to get two big dermal piercings of 18-karat gold pieces. In an IG photo, Uzi is looking at the camera and you could see two protruding gold gems sticking out on both sides of his face.
So it looks like, in total, Uzi had eight facial piercings within the past week. Ouch!
Lil Uzi Vert is no stranger to dermal piercings. Back in February of 2021, the "Just Wanna Rock" rhymer had a $24 million pink diamond implanted in his forehead. While that may have been a unique way to show off his expensive bauble, it eventually became a headache for the 27-year-old artist.
In a December 2021 interview with Twitch streamer Trainwreck's Scuffed podcast, Uzi revealed that the pink diamond was too heavy and was ripping the skin off his forehead. He then added that he couldn't get the bauble insured because insurance companies thought he was trying to hurt himself by getting a diamond implanted into his head.
"I had to really get my shit together," he said on the podcast. "My insurance tried to cut me off, they were like, "This kid's trying to kill himself.'"
"Because we knew it was a piercing, my insurance looked at it like, 'This kid just implanted this diamond in his head, and he's gonna die,'" he explained further. "They're retarded...I really had to call the piercing person and show them low-key everything that I got a piercing. It's literally a piercing. But everything's straight."
Hopefully, the healing process goes smooth on Lil Uzi Vert's face.
Watch Lil Uzi Vert Get Six Dermal Piercings Below
See 33 Rappers With Wild Neck Tattoos
Check out 33 rappers with wild neck tattoos.