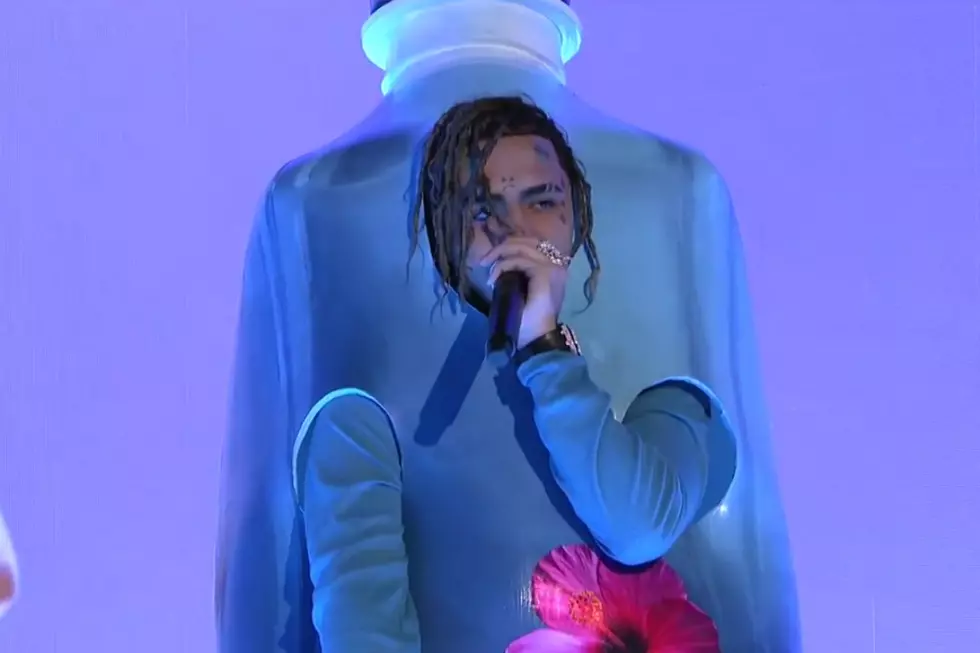 Lil Pump's 'Saturday Night Live' Performance Proves He's Not in Jail
Saturday Night Live via YouTube
Lil Pump might have an impending jail sentence, but for now, despite rumors saying otherwise, he's a free man. Exhibit A: the "Drug Addicts" rapper took the stage on Saturday night (Sept. 29) alongside Kanye West for a performance on Saturday Night Live.
And a performance it was. Pump and 'Ye gave the SNL crowd their new single "I Love It," but in typical Kanye fashion, there was something extra to the showing. Both artists were dressed up as bottled beverages, with Kanye wearing a Perrier sparkling mineral water suit and Pump wearing a Fiji water outfit.
Fans had been worrying about the South Florida rapper's status as a free man since he hopped on social media and announced an imminent jail stint. "Listen up y'all, I'ma get straight to the point: Y'all seen what happened in Miami, I got arrested or whatever over some bullshit," he said. "So I'm on probation in L.A., I just violated my P.O., so I gotta go in and do a couple of months. But I got some crazy ass shit dropping while I'm in there so I'ma have something for y'all don't worry. Listen kids, stay in school, don't fuck up like me."
While Pump is currently free, there is, however, some bad news for Jetski fans. Amid his legal issues, Pump has been forced to cancel his upcoming Harverd Dropout Tour. Reps for the rapper recently released a statement on the matter which reads: "Due to unforeseen circumstances, Lil Pump's Harverd Dropout Tour has been canceled. Refunds will be provided at point of purchase. We apologize for any inconvenience."
Pump is prepping the release of his Harverd Dropout album, which has not dropped on its two previously-announced release dates.
Check out Pump and Kanye's SNL performance below.
See Photos of Lil Pump Behind the Scenes at the 2018 XXL Freshman Class Cover Shoot