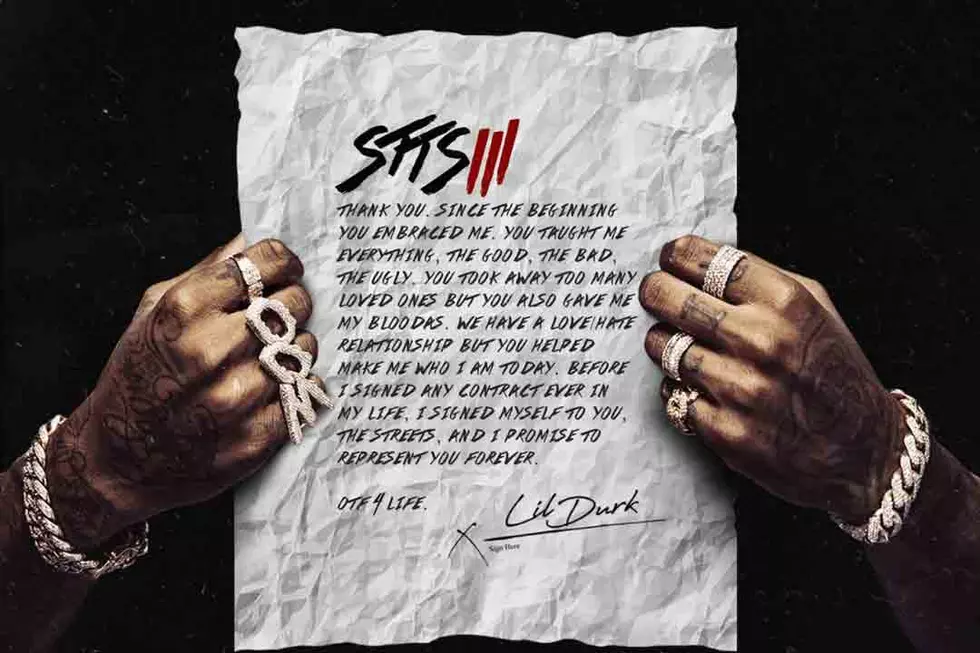 Lil Durk "Don't Talk to Me (Remix)" Featuring Gunna and Juice Wrld: Listen to New Song
Alamo Records / Interscope
Following the release of his album Signed to the Streets 3, which debuted on Nov. 9, Lil Durk has returned with more heat. The Chicago rapper teams up with Juice Wrld for the remix of his track "Don't Talk To Me," which already features Gunna.
On the melodic beat, which is produced by Wheezy and ChopsquadDJ, the trio boasts about their boss status in the rap game. The Alamo-Interscope records signee sets the tone with the first verse. "Seven hundred for the Vetements, I'm a boss, not a gentleman/All my hoes intelligent, can't set me up, Tori Brixx/I like my bitches lit, I spend a bag of checks," Durk raps.
Afterward, the track is blessed with Gunna's aggressive demeanor. "I can't get enough of it, I shootout in public/My soda is bubbly, my chest and neck watery/I turned to a better me, the Hellcat got hella speed," Gunna spits.
Lastly, Juice Wrld puts the icing on the cake with the last verse. "Dunk on a bitch like John Wall, codeine, no Cristal/Bomb on a bitch like Chris Paul, made money, I'm pissed off/Your bitch gave me a blowjob, and you kissed her," Juice rhymes.
In other Lil Durk-related news, he wants recognition for the hard work that he's been putting in. In an interview with XXL, the rapper explained that the sky is the limit.
"I wanna get super tours and bookings," he said. "Even Grammys, they doing tapes at the Grammys. I don't wanna put no limit to it."
Check out Lil Durk's "Don't Talk To Me (Remix)" featuring Gunna and Juice Wrld below.
See Photos of Lil Durk's Different Looks Over the Years