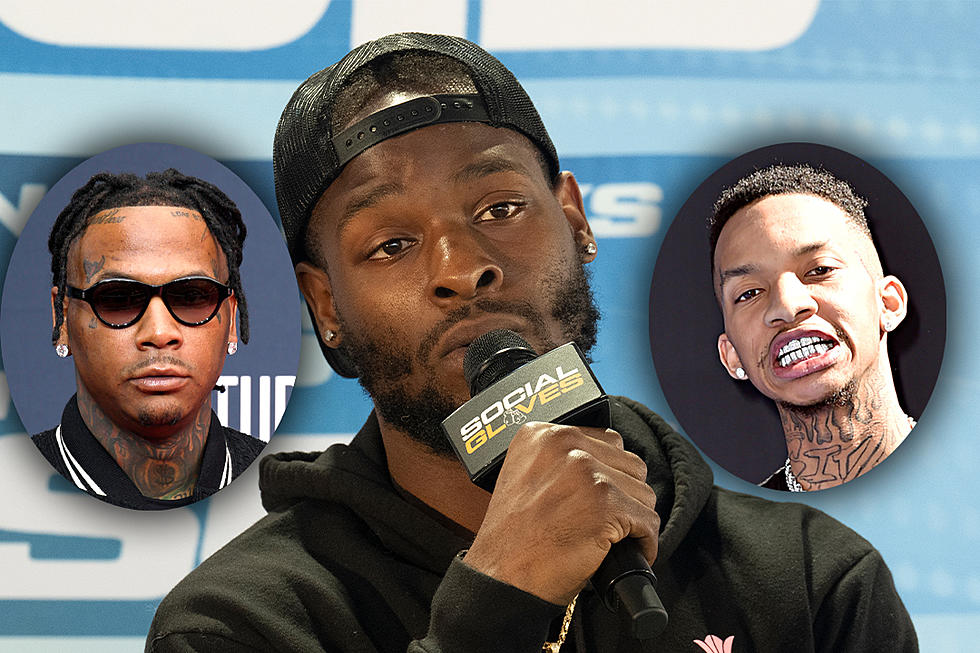 Le'Veon Bell Says He Doesn't Like Verses He Got From Moneybagg Yo and Stunna 4 Vegas, Thinks They Just Wanted 'A Quick Couple Bands'
John McCoy/Frazer Harrison/Aaron J. Thornton/Getty Images (3)
Le'Veon Bell says he doesn't like the verses he got from both Moneybagg Yo and Stunna 4 Vegas. The NFL player-turned-rapper thinks Bagg and Stunna just wanted to make "a couple quick bands."
Le'Veon Bell Explains Why He Won't Put Moneybagg Yo and Stunna 4 Vegas on His Make It Boom Album
On Sunday (July 9), NFL free agent Le'Veon Bell, whose rap career dates as far back as 2016, hit up Twitter to discuss his forthcoming hip-hop album, Make It Boom. Ahead of the project's release date set for July 28, the "G:Code" spitter very candidly explained why he won't be dropping the tracks that feature Moneybagg Yo and Stunna 4 Vegas, respectively, despite seemingly having paid the rappers each a hefty fee for their contributions.
"Moneybagg & Stunna4Vegas, I paid both for," Le'Veon Bell wrote in the series of tweets below. "Decided not to drop these tracks with these guys because honestly, I didn't like their verses .. I feel like they just went in the booth and recorded something as fast as they could to get a quick couple bands .. Koudos, y'all got it."
In a follow-up Tweet, the former Pittsburgh Steelers running back added: "For me personally, unless your Drake, SZA, or Rihanna, you gotta at least TRY or I'm not about to just drop the song just because your name is attached to it …straight up. So that's why I never dropped the tracks with Moneybagg or Stunna4vegas & most likely never will."
What Other Rappers Has Le'Veon Bell Worked With?
As Le'Veon Bell continued to talk music on Twitter following his rant regarding Moneybagg Yo and Stunna 4 Vegas on Sunday, the "Admit It" spitter opened up about his experiences working with the likes of Snoop Dogg, Lil Durk, Tay Keith and the late Lil Keed, all of whom he gave high praise.
"Durk didn't HAVE to do that," Le'Veon tweeted regarding the 2019 song, "G:Code" featuring Lil Durk. "He could've did what stunna & moneybagg did .. but that's how you know, it's LEVELS .. ppl like Snoop, Durk, & obviously there's more, but that's why they are who they are .. they genuinely wanna see you win, & I RESPECT THAT."
He added: "Snoop, I respect you. Durk, I respect you. Tay Keith, I respect you. Keed, I respect you. You didn't have to genuinely help me but YOU DID!"
Check out Le'Veon Bell discussing his opinions on verses from Moneybagg Yo and Stunna 4 Vegas and offering up praise for other people he's worked with in hip-hop in the tweets below.
See Le'Veon Bell Say He Doesn't Like Verses He Got From Moneybagg Yo and Stunna 4 Vegas in the Tweets Below
See Le'Veon Bell Speak On Working With Snoop Dogg, Lil Durk and More Below
See 11 Rappers You Might Not Know Had Signed Record Deals With Professional Athletes