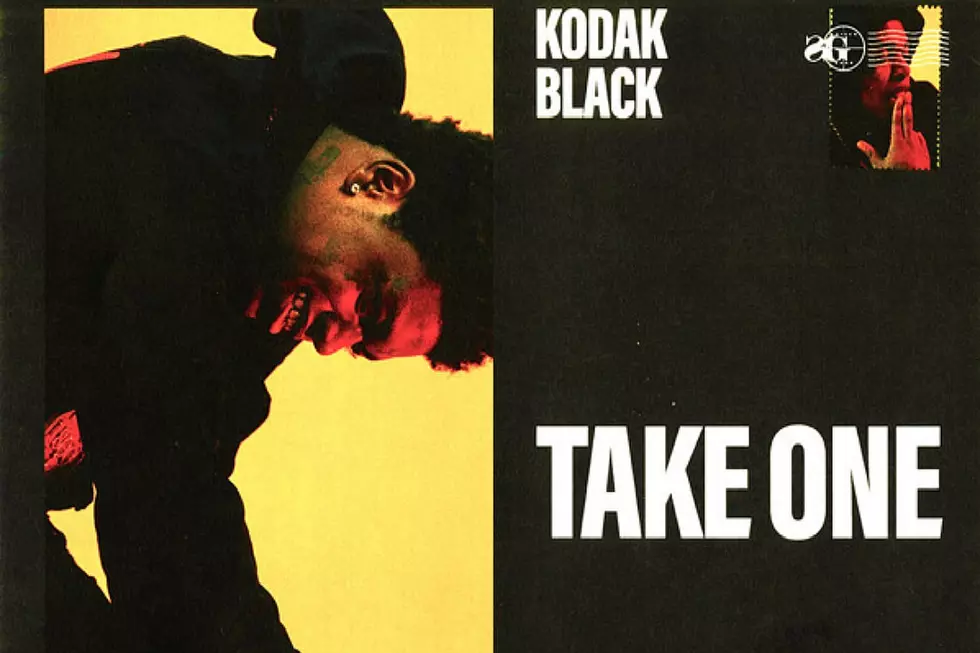 Kodak Black "Take One": Listen to Menacing New Song
Atlantic Records
Kodak Black has never been one to sneak diss or go on Twitter rants. Today (Nov. 16), the Pompano Beach rapper goes off on "lil buddy" in the streets who's been hating on him in his new song "Take One."
In the Ben Billions-produced track, the "Zeze" rapper vows to bite the bullet for breaking his house arrest to handle his haters in what appears to be the latest single off his forthcoming album KB2.
"I'm on house arrest but I'ma take one/That pussy bitin', so I paid to get her lace done/That nigga dissin' on the 'Gram, but I ain't say nothin'/I ain't trippin, I'ma get him when that day come," Kodak raps on the chorus.
In his verse, Kodak describes what he would do to a hater who's been dissing him on social media. Even though he's on house arrest, the Sniper Gang leader raps about getting any offenders snatched from their crib just to let them know he's real about his business.
"When you dissin me, nigga, that better be really how you feel," Kodak raps. "'Cause I ain't takin' no apologies, I don't care if it's sincere/I'm on 1800 block, still posted with the steel/I don't even care, I got a couple mil still in the field/I'm a business man how I give a pussy nigga the deal."
Could this be Kodak Black's response to 6ix9ine's viral shots? Last month, Kodak was on Instagram Live when someone commented that the "Fefe" rapper was better than him.
"Ain't nobody better than me. Fuck you talkin' bout. Is you crazy?" Kodak fired back. "These niggas scared to go to jail. I'll go to jail tomorrow. Fuck you talkin' bout? Who better than me? Get off my Live with that bullshit."
6ix9ine found out about the shots fired and quickly responded on Instagram.
"Y'all see how quick shit can go left? Stop telling me who I can't beef with, who I pick beefs with, 'cause I done beefed with everybody. I've told everybody to suck my fucking dick," he said. "I got a song coming out Friday, I don't want to beef with niggas. But stop putting my name in niggas mouth. Cause niggas don't want to beef with me.
To clarify exactly who he was talking about, Tekashi followed up with an IG post that simply read: "Kodak Black Suck My Dick."
Listen to "Take One" below.
See Behind-the-Scenes With Kodak Black at 2016 XXL Freshman Class Cover Shoot