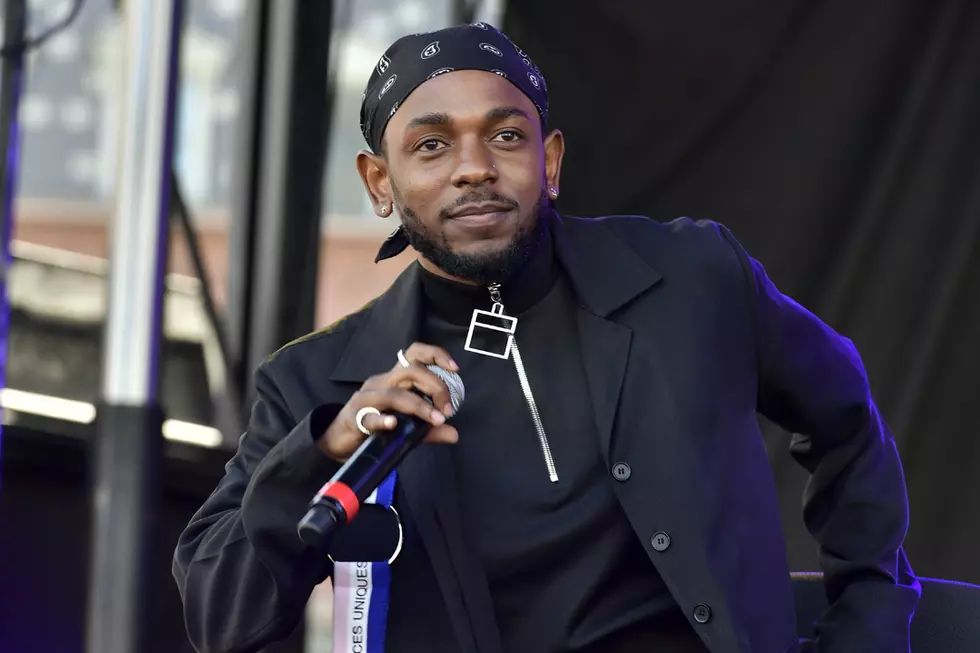 Kendrick Lamar's Love for Hip-Hop Prevents Him From Fumbling in His Career
Paul Marotta, Getty Images
Kendrick Lamar is on top of the world right now. He's one of he hottest artists on the planet, regardless of genre, as evident in his recent Grammy haul of five awards at the 2018 edition. But resting on his laurels isn't in K. Dot's DNA.
Kendrick recently chopped it up with Billboard and discussed, among other issues, how he keeps the hunger for more.
With the recent 2018 NBA All-Star Weekend taking place in Los Angeles, the subject of Kendrick's relationship with Kobe Bryant, who put on for L.A. for two decades, came up.  "I think from afar, we both have this willpower of finding our how far we can max our potential in what we can do," Kendrick says. "I think once you have that curiosity, it'll keep you challenged, it'll keep you motivated and it'll keep you elevated. That's what he's done with his career."
As far as how the "Love" rapper stays focused while performing at peak efficiency, Dot says that comes with having a love for the sport of rap. "It's really always having love for it, and really having fun with it," he adds. "I think the moment when I'm not having fun with it, and getting into the studio and -- you know, going back to the Kobe similarities -- maxing out on the full potential, that's when the fumbling happens. Before that even happens, I'd pass it down and give it to another young boy that has that same passion that can carry that [throne]. But right now, I feel good. I'll let y'all know when the final years is coming up, when I'm like, 'OK. This kid is it. He's from the city. He's it. He got it.'"
The Top Dawg MC continues to strive for greatness. He was recently commissioned to curate Black Panther: The Album, which he did along with his label. The project, which features Kendrick, Travis Scott, The Weeknd, Mozzy, ScHoolboy Q, 2 Chainz, Swae Lee, Vince Staples, Ab-Soul, Anderson .Paak, Jay Rock, Future and more, debuted at No. 1 on the Billboard 200 moving 154,000 equivalent album units, according to Nielsen Music.
See Photos of Kendrick Lamar's Different Looks Over the Years